Five Fitness Habits to Start Today
This post is part of a social shopper marketing insight campaign with Pollinate Media Group® and Sejoyia, but all my opinions are my own. #pmedia #CocoRoonsAtWalmart  http://my-disclosur.es/OBsstV
It is never too late to start. I try to tell myself that working on new habits is worthwhile to ultimately feel better each day. New habits can take a few weeks to become a routine, and the first few weeks will require dedication to your goals. Fitness and lifelong happiness and health are important! Small changes can help you reap the rewards. While working on your healthy habits, I have a few tips of inspiration to help you meet your goals!
Fuel your body! The food that you eat as you workout has a direct impact on how you feel and the results that you desire. I try to limit sugar and sweet treats, which is why Sejoyia Coco-Roons make the perfect cookie while I work on my goals.
Coco-Roons are the original superfood cookie and are organic, gluten-free, vegan, and Paleo! I frequently talk about Paleo and Whole30 recipes on my site, and these Coco-Roons have no refined sugar and are made with coconut and cashews. How is it sweetened? Pure, organic maple syrup!
The brownie flavor is made with organic cocoa with a rich flavor. I also found the lemon flavor which is light and refreshing for these warm days.The perfect cookie to snack on during a movie, a refreshing treat on a long day, or even just an on-the-go idea to fill you up! I found two flavors in the gluten-free area of my local Walmart.
Fitness Habits to Start Today
Besides eating right, be sure to get more sleep. If you're exercising regularly, sleep will help you recharge!
Warm up. Don't forget to stretch before working out. It also helps you relax, de-stress after a long day, and help you feel better throughout the day. Try a foam roller to help massage your muscles.
Track your results. Keep a fitness journal or an online tool or app. You can just grab a notebook to track meals, fitness goals, and measurements. Once you see results, you will feel motivated! You can also see what is working and what isn't.
Move EVERY DAY! Whether it's a daily walk with your dogs, dancing around the house, or a morning yoga class, make sure to move your body daily. I also LOVE taking Spin Studio classes since it really moves my body and elevates my heart rate.
When you take better care of yourself through healthy eating and fitness, you can find happiness and live a stress-free life. I'm excited to have a healthy go-to snack on hand (these brownie Coco-Roons are going to live in my tote for on-the-go moments!), and I am working at taking care of myself each day.
Fitness Printables
How would you enjoy Coco-Roons? What are your healthy simple habits?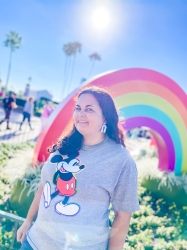 Latest posts by Krystal | Sunny Sweet Days
(see all)