Create a Dollar Store First Aid Kit
Having a first aid kit on hand is an essential part of any home. After all, you never know when an accident may happen. Making a first aid kit is simple when you make a trip to your local Dollar Tree. They will have everything you need to make your own first aid kit in minutes and for around $10. Here is how you can get started making your own!

1. Band aids. Dollar Tree carries band aids for both children and adults. You will find several varieties and sizes to choose from. Make sure you have both small and large for various sized injuries.
2. Antibiotic ointment. Find a tube of antibiotic cream at your local Dollar Tree for just $1. It is perfect for keeping cuts and burns clean and prevents infection.
3. Gauze pads. Gauze pads are used when cuts are large or burns are present. They will keep the area protected and clean. You can find gauze pads sold by the box at Dollar Tree, perfect for filling this need.
4. Pain relieving spray. While you are building your kit, don't forget about pain relieving spray. It will help take the burn and pain away from injuries and can help promote more comfortable healing.
5. Cotton balls/Q Tips. These cotton products are nice to have in your kit so that you can safely apply creams and ointments. They can also be used to clean wounds in a way that is sanitary.
6. No stick tape. Find a roll of no stick tape which can be used to apply gauze pads to wounds. This way the gauze stays in place and you lessen the chances of wounds becoming infected.
7. Freeze packs. A freeze pack is perfect for bumps and bruises and can help reduce swelling. Grab a few freeze packs and store them in your freezer until needed.
8. General pain relievers. Be sure to add some general pain relievers to your first aid kit. Ibuprofen and antacids are all sure to come in handy.
9. Bottled water. Keep a fresh bottle of water in your first aid kit just in case you need it for flushing wounds or taking medications.
10. An airtight container. Snag an airtight container at your local Dollar Tree and use it to store your first aid supplies in. This way they will stay clean and dry until you need them.
See how simple it can be to build a first aid kit from Dollar Tree supplies? Give these tips a try and in no time you can have the perfect first aid kit for all of your emergency needs.

Follow Krystal's Kitsch's board 52 Weeks of Dollar Deals on Pinterest.
What's in your first aid kit? What topic should I feature in my next 52 Weeks of Dollar Deals post?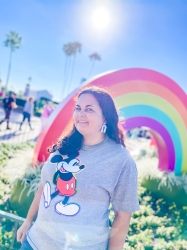 Latest posts by Krystal | Sunny Sweet Days
(see all)