Where to Find Healthy Foods
If you're ready to start improving your diet in order to lose weight or live a longer, healthier life, it can be difficult to know where to find the healthy foods that you're looking for. Chain grocery stores are full of processed foods that contribute to obesity and diabetes, but of course, there's usually plenty of fresh produce available as well. Here, you'll find out where and how to shop for healthy foods for your family.

Farmers' Markets
Farmers' markets aren't readily available in every city, but if you're willing to do some research and perhaps travel a moderate distance to find one, this is a great way to stock up on healthy food. Luckily, there has been a steady increase in the number of farmers' markets in America due to popular demand. If you're interested in saving money as well as providing healthy food for yourself and your family, farmers' markets are well worth the trip. Usually, farmers' markets are small and only offer a few types of vegetables, but it's possible to find a farmers' market that has an abundance of food to offer. Depending on where you live, you might be able to get free-range eggs, grass-fed butter, and locally produced honey.
Specialty Health Food Stores
Most cities have at least one health food store. It could be a large chain like Whole Foods, or a small, locally owned storefront. These types of stores are often criticized for their hefty price tags, but it can be worth the cost if you're interested in supporting a local business or simply avoiding the overwhelming number of choices in a standard grocery store. Just remember, though, that not everything in a health food store is healthy. However, it's a safe bet that overall, the ingredients are of higher quality than cheaper, processed foods found at a regular grocery store.
Chain Stores
Chain stores like Walmart and Target also carry healthy foods, if you're willing to look out for trusted brands and read labels. For example, if you're looking for healthier alternatives to foods like mayo, cookie dough, and salad dressing, hamptoncreek foods are now available at Walmart and Target. When shopping at large stores like these, it's helpful to make a list and visit the store after you've already eaten to avoid temptation. You'll be more likely to stick to your goals if you're armed with a list and your stomach isn't growling.
On the Go
Our lifestyles have become busier than ever, and sometimes it's impossible to avoid eating out. There's been a growing demand for healthier food options, and businesses have risen to the occasion. If you're out and about and need to stop for a quick bite to eat, consider stopping at restaurants that let you customize your meals. Chipotle is known for its customizable bowls, so you can opt for healthier choices like brown rice over white rice. There are plenty of other places that let you have control over what you're eating, like Panera Bread or Subway.
Your Own Backyard
If you have space, starting a small garden is a great way to incorporate more veggies into your diet. Similar to a farmers' market, you'll be able to feel good about where your food comes from. The feeling is even better when you've taken the time to produce the food yourself. Starting a garden is a wonderful family project, so if you have kids, try to involve them in the process to help them create healthy habits for life. In addition to saving money on produce, you'll also be able to take less frequent trips to the grocery store.
When you're looking for healthy foods to purchase, it can be a challenge to find the right stores. Big chain stores have responded to a growing demand to carry healthier items, so you're now able to find more options to suit your needs. If you're interested in supporting small and local businesses, a farmers' market or specialty health food store carry produce that's fresh and in season. On those unavoidable occasions when you're too tired or busy to make a meal at home, many fast food restaurants also have healthy choices available to their customers. Staying healthy can be difficult when there are so many products on the market, but by seeking out the right stores (or sections of stores), you can find the foods that your family needs to thrive.
Try these 15 Ways to Eat Healthy in the New Year tips! Also, consider making your own sweets like these Frozen Orange Juice Popsicles.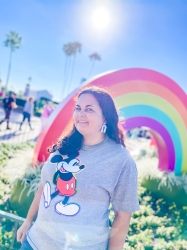 Latest posts by Krystal | Sunny Sweet Days
(see all)