This is a sponsored post in partnership with Bestway and BraVoMark. All opinions are mine.
There was a time in the not-so-distant past that I was able to sleep just about anywhere. Just throw a few pillows in a corner and I was good to go. Coincidentally, that was also around the time in my life that camping was an enjoyable activity. I used to not mind sleeping on hard ground with nothing but a sleeping bag and a blanket or even the bed of the truck with a yoga mat. Now if I even sit awkwardly while watching television, my back hates me for days.
Of course, now that I have a son who is getting to that age where camping is cool, I have to suck it up. That's why any outdoors sleeping arrangement now starts with a good air mattress.
The Bestway Alwayzaire inflatable mattress, which is available at Walmart.com, is made of dense polyester fabric and durable high gauge material, this airbed provides high levels of strength. A Fortech Airbed is 75% more puncture resistant and 150 times more impervious to scratches than a normal PVC airbed, making it the perfect blend of durability and comfort for camping outdoors.
In addition, the unique top surface and surround frame design offers advanced support and helps to eliminate roll offs. When you are ready to store away, it easily deflates – simply place your flattened bed in the included carrying bag for easy transport and storage.
The best part is that you'll never have to worry about forgetting to pack an air pump. (It happens to the best of us). The built-in pump has an easy, one click operation that can inflate a queen size mattress in under three minutes with three different options for firmness.
The settings are easily displayed, even in a darkened area, with the soft back light. If you are fortunate enough to have direct access to a power outlet, the pump even continuously monitors and maintains air pressure.
 A Fortech Airbed is 75% more puncture resistant and 150 times more impervious to scratches than a normal PVC airbed. With a built-in AlwayzAire pump, the bed inflates in 150 seconds so it is ready for bed when you are. The pump has an easy, one click operation with 3 options for airbed firmness.
This queen size Fortech airbed measures 80in. x 60in. x 17in. (2.03m x 1.52m x 43cm). Includes built-in 110-120V~ electric AlwayzAire pump (ETL approved) which continuously monitors and maintains air pressure. Inflates in 150 seconds.  
Now that you have a comfy place to sleep, here are a few more things to remember to make your next outdoors sleep over a little more pleasant:
Family Camping Tips
Bug spray — In Florida, we have bugs year round. Being out in the woods, miles from the nearest convenience store is a bad place to be without bug spray.
Spare propane — If you are planning on using a gas-powered stove or grill, it's a good idea to have more fuel than you could possibly use. Because you will probably need it. Nothing is worse than trying to cook all of your meals over a campfire on the last day because you ran out of propane.
Aluminum foil — You'd be surprised at how many uses foil has out in the wild. From cooking and saving food, to cleaning a grill, to a makeshift antenna, the foil is like the duct tape for outdoors survival. Which brings me to…
Duct tape — This is pretty handy too by the way. You never know when you will need it!
Generator or power supply — Obviously if you are going to have an electric pump for your air mattress, you are going to need power for it if you are in a primitive camping site. Don't forget to bring spare fuel for that too.
Do you like to go camping? What are your best tips for comfort?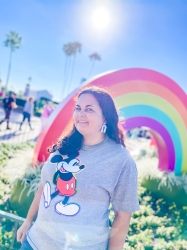 Latest posts by Krystal | Sunny Sweet Days
(see all)