FabFitFun Spring Box: The Best Spring Products
I received a FabFitFun box in exchange for this honest review. All opinions are 100% my own.
I am a product junkie. It's true — I love beauty products, skin care items, clothing, etc., and I truly enjoy trying new products, yet we all know that this "hobby" can get expensive.
But do you know what the best cure is for this slight obsession of mine? A FabFitFun box! I've seen plenty of other people unboxing their goodies with total product envy and I always thought that the box was such a great deal (because it is) and I've been dying to open one of my own (which I have) and finally, here we go!
FabFitFun is a subscription box with full-size fashion, beauty, fitness and lifestyle products…so check out what I got in the spring box!
FABFITFUN PROMO CODE
Use coupon code "SUNNYSWEETDAYS" for $10 off your first box at
fabfitfun

.com!
Deux Lux Demi Backpack ($75)
Yes, yes and yes! I am in love with this backpack. This is a canvas backpack with adjustable straps, a top handle and a post-closure, and is absolutely perfect for outings with my family to the local theme parks (one of our favorite things to do ever).
This chic backpack really goes with everything, like my new favorite clothes from Shein, and carries all I need for a day out. I think it'll also be great for an evening with friends! It's just the perfect accessory from day to night, in my opinion.
Other options included: Show Me Your Mumu Brie Robe ($84) or Unplug Meditation Aromatherapy Diffuser ($55)
Quay Australia Vivienne in "Black/Smoke" ($60)
I've purchased Quay Australia sunglasses before and think they are such a great quality that I was pumped to see these in the box. I'm still rocking my original sunglasses from a handful of years ago and now I have these oversized aviators with a black metal frame, double bridge and adjustable nose pads for no-slip wear.
With such hot weather in Florida, it's not uncommon for sweat to form on the bridge of your nose since it's exposed with or without a hat on. The no-slip grip is essential to make sure I don't have to keep adjusting my sunglasses. Plus, the aviator style is a favorite and really goes with any face shape.
Other options included: Quay Australia My Girl in "Black/Smoke" ($55) or Sunnylife Lovers Picnic Set in "Malibu" ($30) or Korres Wild Rose Vitamin C Brightening Sleeping Facial ($48)
Revivaderm Revivagel Hyaluronic Acid Gel Cream Booster (Mystery Item $20+)
Okayyy FabFitFun, I see what you're doing here. You're basically giving me all I need in life. First, I am loving cream products lately (try cream blush and tell me you don't feel the same!) For any 30-something or older, cream (and gel creams) applies really nicely to our skin and truly fills in, or simply glides over, any fine lines without drawing attention to them at all.
And this product does what it promises and provides all-day hydration. I was so surprised when I tried it for the first time and discovered this incredibly light-weight and cooling formula. Yes, this gel cream actually feels cool on the skin, making this Florida girl VERY happy.
Other options included: Giadzy Copper Plated Measuring Spoons ($15) or Lavido Aromatic Body Lotion in "Mandarin, Orange and Bergamot" ($19)
S'ip by S'well ($19.99)
I admit that I have way too many water bottles in my home. I have a whole cabinet dedicated to them! I also admit that I really need to drink more water and I've had a hard time finding a water bottle that makes me want to drink from it all day long. Until now! S'well knows what they are doing when it comes to hydration.
It could be the cute bees, it could be that this is stainless steel, it could be that I know I'm reducing single-use plastic consumption, or it could be that my water stays at just the right temperature. Truth is, it's all of it! This water bottle really makes me want to up my hydration game, and proof that you don't have to use a straw to make sure you drink your recommended amount of water every day.
Other options included: The2Bandits Athens Necklace ($30) or Ciate London Extraordinary Translucent Setting Powder ($22)
Eleven by Venus Jump Rope ($15)
Have I shared that I'm getting into fitness lately? Well, I most certainly am! I remember loving to jump rope when I was younger and now I feel it's a fun way to get some physical exercise in. It's a simple movement that you can do indoors or out.
This jump rope is much better quality than the actual rope material you may be used to.
Other options included: Tula Purifying Face Cleanser ($28) or Daily Concepts Daily Detox Brush ($18)
Ouai Leave-In Conditioner ($26)
An item that every FabFitFun box received! It smooths, softens and detangles hair (this is HUGE!) It has moisturizing properties and heat protection.
Dr. Brandt Skincare Needles No More Baggage Eye De-Puffing Gel ($42)
I only had to use this once to see the difference. Dr. Brandt calls this a breakthrough solution and I'm believing it. This product will visibly reduce the look of under-eye bags and dark circles. This is another item that came in all boxes.
Manna Kadar Champagne Body Scrub ($24)
Yet another product all boxes received this time around. This was the very first item I used in the box. I actually made an excuse to go take a shower just so I could try this out. First, it smells delicious. Second, it's obvious that it's truly removing those dead skin cells. The mix of charcoal and Dead Sea mineral make this body scrub both luxe and gentle so you are left with skin that's polished, hydrated and refreshed!
The total value of every FabFitFun box (which comes out seasonally) is over $200, depending on the selection you get. There are always some items you can choose from, no matter your member status, and then there are some items you can customize if you have signed up for an annual membership. Otherwise, these items are randomly selected for you.
Really, though, you can't go wrong with all of it! FabFitFun curates these boxes and makes it 100% worth the $49.99 you pay quarterly. Look at all you get!
Sign up now for your Spring Box before it sells out!
Check out my other FabFitFun reviews: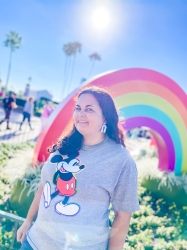 Latest posts by Krystal | Sunny Sweet Days
(see all)