6 Exciting Ways To Travel You Should Definitely Check Out
Are you ready to take a trip? Traveling is one of the best ways to explore, learn, and expand your horizons. With so many exciting travel options, it can be hard to decide which way to go. Whether you're looking for a relaxing beach vacation or an adventure-filled holiday, plenty of options will make your trip unforgettable. From sailing around the world to trekking through the jungle, here are 6 exciting ways to travel that you should definitely check out.
Use the Ferry
If you're looking for a unique way to travel, try taking the ferry. Ferry rides offer stunning views of coastlines and islands while providing a comfortable journey. You can get a small ferry ride from one side of a lake or river to the other or take a multi-day cruise that sails worldwide. Some ferries are even equipped with amenities like restaurants and lounges, making the experience all the more enjoyable.
Some of the tips to consider when using the ferry include packing snacks, researching your destination, and booking tickets in advance. Also, ensure that you check the ferry times and travel routes to ensure your journey is safe and smooth. If possible, opt for an overnight ferry trip for a more relaxing and enjoyable experience.
Ride the Rails
If you love trains, why not take a ride around the world? Rail travel is an exciting way to explore new places and discover hidden gems in unknown destinations. You can choose from short-distance trips or a global adventure across multiple countries. For instance, you can take the Trans-Siberian Railway and explore all of Russia or hop on the Orient Express for a luxurious journey through Europe. Not only do you get to see breathtaking scenery from your train window, but you also get to experience different cultures and cuisines along the way.
When taking a train trip, ensure you carry essential items like a pillow, snacks, and books to make your journey more comfortable. Also, do some research in advance to know what kind of amenities are on the train and how much time you'll have at each station.
Take a Road Trip
A great way to see more of the world is by road trips. Whether you're traveling with friends or family, getting behind the wheel can be an exciting adventure. With so many scenic routes to choose from, you'll have plenty of opportunities to explore nature and make new memories.
To make the most of your road-tripping experience, plan ahead and make sure you have an idea of where you want to go and what places you'd like to see. Pack snacks for the journey and don't forget your camera so that you can capture all the beautiful sights along the way. Be sure to check the weather before you set out so that you don't run into unexpected delays or road closures.
Explore by Bike
For a fun and active way to travel, consider exploring your destination by bike. Whether around town or across countries, biking is a great way to get up close and personal with nature. You can take a guided tour or rent bikes and explore on your own. Some popular biking trails include the Danube Cycle Path in Austria, La Carrera Panamericana in Mexico, and the Great Allegheny Passage in Pennsylvania
If you're going on a cycling adventure, ensure you're prepared with comfortable clothing and essential equipment like a helmet, water bottle, and bike pump. Bring along some snacks to fuel your journey and ensure you always have an idea of where you are headed.
Sail the Seas
Why not try sailing if you're looking for a unique way to travel? From yacht charters to group cruises, there are plenty of options for a fun and exciting sailing adventure. On your journey, you'll get to enjoy the salty sea breeze and stunning views of the horizon while learning about different cultures and cuisines.
To make the most of your sailing experience, research your destination in advance to find out what activities are offered onboard or ashore. Before setting sail, be sure to check the weather forecast and pack the necessary clothing and equipment for your journey. Lastly, don't forget to bring along documents like passports and visas if you plan on traveling across borders.
Fly Away
If you have a bit of an adventurous side, consider taking a flight to explore new places. Whether domestic or international, flying is the quickest way to get around and see different countries without spending too much time on the road.
For your journey, ensure you check in advance for airline requirements and pack your essentials such as a passport, wallet, and necessary documents. Also, be sure to double-check the weather before you take off so that you don't run into any unexpected delays at the airport.
Traveling is an amazing way to explore the world and experience different cultures, cuisines, and scenery. Whether you choose to travel by train, bike, sail or fly – there are plenty of exciting ways to get around that will guarantee an unforgettable adventure. Just be sure to plan ahead so that you're prepared for any unexpected events that may come your way. With some research and the right equipment, you'll surely have an amazing trip!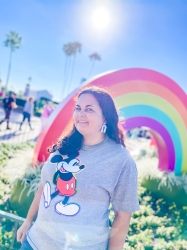 Latest posts by Krystal | Sunny Sweet Days
(see all)