Live a Grateful Life Printable
It can be very hard to keep a home clean when you're trying to wrangle a toddler. He loves to pull things off of shelves, climb bookcases, and wreak havoc on any and all breakables in our home. We might not always have a clean house, but we do have a handle on how to clean up the everyday mess. From a runny nose to a spilled cup of juice, my husband and I constantly have Scott Paper Towels and Wipes nearby. Did I mention we have two dogs too? You never know what one of them will drag into the house!
To get our spring cleaning off to a fast start, we stocked up! After you are loaded up with your supplies, get ready to make over your home with these easy everyday home decor tips.
Everyday Home Decor Ideas With Scott Tissue
Want to download a free printable for your clean home? Follow the easy home decor tips along after the jump!


1. Use trays. Clutter looks a lot better when it's being nicely managed on a tray. I try to stack remotes, various odds and ends, and things like hand sanitizer around our home on trays.


2. Don't Forget to Dust. While Scott Naturals Wipes are meant for the bathroom, I am not going to lie and say they haven't come in handy when I've needed to dust a few items on the counter. They work great in a pinch!


3. Fresh Flowers All Day Every Day. I used to want to be the kind of person who always had fresh blooms around the house. I don't know why I never really purchased any until this year. I usually grab mine for $4 a bunch, and the price is worth it to add some color to my home. I feel like my house looks like it is more "together" when there are flowers on the table.


4. Consider Tablecloths. Perhaps my biggest splurges of the year include colorful tablecloths. It's amazing how one can transform your dining area or patio. I frequently change mine out according to the season, and I love how my tables look instantly cleaner with a clean cloth covering them!
5. Add Character to Your Home. It's okay for your house to look lived in. Keep favorite books out on the shelves (even if they don't match!) and don't hide family photos. The best part about a house is how it turns into a home when the decorating and cleaning are done. 

Want to add something to your home? Try printing out this free printable. I chose this quote because I sometimes forget how great things really are. I have days where I'm too busy and stressed out, and then I have days where I can lounge by the pool with a good book. I need to remember to be grateful for every day. Frame it in white or gold and add it to your gallery wall.

Download it here. It's an image file sized to 8 x 10, but you can resize to whatever smaller size you would like.
How are you going to add flair to your everyday home decor? Are you spring cleaning yet?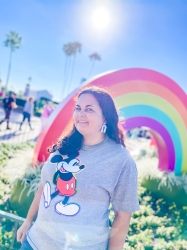 Latest posts by Krystal | Sunny Sweet Days
(see all)