7 Essential Oils to Take With You When You Travel
This post is sponsored and includes affiliate links.
Traveling and being away from home can lead to stress, sleeplessness, and other discomforts which can prevent you from enjoying your trip to the fullest. Essential oils can help you feel more comfortable when traveling, and soothe some of these very common issues. If you are preparing for a trip and want to know which essential oils you should take with you, take a look at this list of 7 essential oils to take with you when YOU travel! You won't want to leave home without them. And, with these awesome AromaWear necklaces, traveling with essential oils is a breeze! Keep reading for a coupon and giveaway!

Sometimes it is hard to enjoy your favorite essential oils when you're on the road. Luckily these AromaWear necklaces are easy to take with you so you can enjoy your favorite oils wherever you are!

These rose gold necklaces are totally my style, and the chain is the perfect length.

They are hypoallergenic and include washable and reusable pads that you can use to enjoy your oils. They have both black and white pads included.

I love valor, peppermint, lemon, and grapefruit. I go through those a lot. Now I can wear my favorite scents, so I know I will use them even more!
Essential Oils For Travel
1. Peppermint Oil. A common and inexpensive oil, peppermint oil is perfect for soothing headaches and tummy upset. Since the stress of traveling can cause both, inhaling peppermint oil or massaging it onto the belly or temples is a quick fix.
2. Thieves Oil. Thieves oil has a sanitizing effect, so it is perfect for taking with you when traveling on a plane. Use a drop on the hands to help disinfect and clean them, especially after using areas such as public restrooms. You can also inhale the oil when in a highly populated area if you are concerned about breathing in germs.
3. Lemon Oil. Boost your immune system when traveling by adding a drop of lemon oil to your water. You can even place a few drops in the palms and inhale if you are feeling sluggish and disoriented from your flight or lengthy car ride.
4. Grapefruit Oil. Grapefruit oil can help you feel more alert and awake when traveling. Since travel can really wear you down, inhaling the oil can help you stay alert and focused on your route. If you are experiencing jet lag, grapefruit oil can help as well. Just add a drop to your water and enjoy.
5. Lavender Oil. Sleeping away from your own bed can be difficult. Massage some lavender oil onto your temples or diffuse it in your room in order to achieve a more peaceful night's sleep. It can help you unwind, feel relaxed, and fall asleep quickly.
6. Orange Oil. Orange oil can be used to clean the space you are staying in, leaving it smelling fresh and deodorized. Wet a washcloth with warm water and add a few drops of orange oil, then wipe it over any areas of concern. This is excellent to try when staying in hotels that are less than stellar!
7. Rosemary Oil. Rosemary oil can help with aching muscles, which often are a result of sitting in a car or plane for long amounts of time. Massage some onto the affected areas and feel some fast relief from aches and pains.
If you are not on the go, it's important to have a reliable diffuser. The AromaSoft diffuser is a simple to use diffuser and has a light. It provides a nice mist when you diffuse your favorite oils, and it included a measuring cup.
See how helpful essential oils can be when you travel? Give these 7 must have oils for travel a try and see what a difference they can make to your trip.
Want to shop these products?
Do you take essential oils with you on the go? Which ones are your favorite?
Essential Oil Tips For Beginners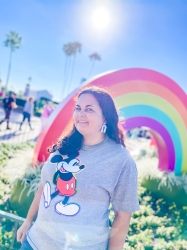 Latest posts by Krystal | Sunny Sweet Days
(see all)