Essential Equipment You Need for Horse Riding
Horseback riding is a fine sport that allows the riders to form special bonds with their horses. Undeniably, steeds are exquisite animals who are known for their intelligence, empathy, and strength. It takes time, exercise, and practice to be a skilled rider. Horseback riding is a great sport that can improve your posture, core muscles, strength, balance, and control. For professional riders and those who simply take it up as a hobby, having the necessary equipment is important. If you wish to get the most out of your riding experience, you need to use suitable equipment and gear. On that note, here's a list of the horseback riding essentials you must have.
Helmets
It's wise and highly recommended that you wear a helmet while riding a horse. No matter how skilled you are, accidents can happen sometimes. Helmets are effective in protecting your head against falls, traumas, and injuries. It's better to invest in quality helmets when navigating the market. Check customer reviews of helmets before you make a purchase. Make sure that the helmet is certified by the Safety Equipment Institute (SEI) or the American Society for Testing Materials (ASTM). Such authorities set the standards for suitable equestrian helmets that undergo quality assurance tests.
Bridles
Bridles and reins help you control the horse's head and speed while riding. With reigns, you can balance yourself using your upper body while riding. This helps in establishing a dynamic between you and the horse so you can effectively communicate what you want it to do. Of course, you should get the bridle that matches the size of your horse's head. The horseback enthusiasts at Ayr Equestrian recommend wide leather for cobby heads and narrow leather for fine ones. If you'll be racing, you may have limited options to choose from when it comes to colors and types.
Saddles
Seating is vital for you and your horse. You want to balance your weight on the horse in order not to tire it out. A saddle is a crucial element for your comfort. To find the right saddle, you need to know what to search for. A secure position on the saddle is when the rider is comfortable and able to feel the horse's movement. Your pelvis should be neutral and your spine is balanced. It's important that the ankles and hips are vertically aligned with no muscular effort from you. You should also think about the type of girth that fastens the saddle. There are various girth kinds like leather, nylon, or string. We'd recommend the leather or synthetic girths with an elastic touch for more convenience to you and the horse. It's important to know that the saddle is not going to settle on the horse by itself; it will need girth to fix it. Now that you know what saddle pads are for and how to choose the right one for your horse, you need to research the market and find the best possible options that meet your horse's needs. The collection of horse saddle pads includes saddle pads in different sizes, colours, uses, materials, and qualities. You just have to make the right decision. 
Safety Stirrups
Settling your feet on stirrups supports your posture on the horse. Remember that you are not riding a machine; it's a living animal. So, it's normal that your horse can have sudden movements that can throw you off balance, causing you to slip or fall. Even with saddles, protective equestrian attire, and reins, you may be prone to injuries without safety stirrups. They boost your performance and comfort in the saddle. Technology has advanced in crafting stirrups beyond conventional iron stirrups. Nowadays, you can find various types, colors, shapes, and styles. All of these stirrups varieties can allow better leg balance, angle, and flexibility.
Riding Gloves
The topic of wearing or not wearing gloves while horseback riding has been debated for a long time. However, when talking about safety and agility measures, it's better to come prepared. Regardless of your level of expertise, riding gloves can help you in many ways. For example, they are effective in extreme weather conditions like winter. Wearing riding gloves also aid in handling the reins, as you may need to promptly stop your horse. The force of using reins can sometimes be too harsh on your hands. Another advantage of gloves will be avoiding the marks of the years; this is for people who ride for a long time.
Riding horses is exhilarating; you get to connect with those extraordinary creatures and spend some time outdoors. The dynamics between riders and their horses are phenomenal, especially when they know how to interact with their steeds. Even so, the ride can still involve sudden movements and other challenges. That's why equestrians need to have the necessary gear to make the most out of their rides. With this guide, you'll look like it's not your first rodeo, even if it is, while also ensuring your safety and comfort.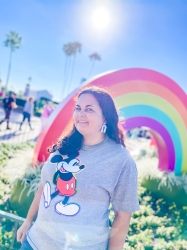 Latest posts by Krystal | Sunny Sweet Days
(see all)