Erin Condren Teacher Planner: How to Use it When You're Not a Teacher
Erin Condren planners are often imitated, but never duplicated! They're wildly popular because they're not only beautifully designed, but have every possible element you could want in a planner. Buy a planner that suits your specific needs (like the wedding planner, the teacher planner, or everyone's favorite LifePlanner) and then add extra elements to it to allow for menu planning, budgeting, bullet journaling, grocery lists, to-do lists, birthday lists and so much more. With accessories like sticky pockets, elastic bands, and page markers, you can create the most functional planner imaginable. You'll actually want to use it, which means you'll stay organized!
The Erin Condren Teacher Planner has everything you could possibly need to stay organized in and out of the classroom. Each one has a two-page monthly calendar spread, with plenty of space to write and label the days with stickers. (The planners also come with sheets of coiled-in stickers to use, or you can purchase customizable stickers, tape, and other functional stickers separately). It's got weekly pages for lesson planning, monthly note pages, and inspirational quotes to keep you motivated on even the longest days!
Stunning Triangle Overlay Design Motif
Two Page Monthly Calendar Spreads
Weekly Pages for Lesson Planning
Laminated Tabs & 2 Dated Calendar Options
Monthly Note Pages, Inspirational Quotes & More
INTERCHANGEABLE COVERS: Each Teacher Lesson Planner comes with a secure & stylish removable interchangeable cover so you can switch & swap designs as often as you like. Give your book a fresh new look anytime!
TEACHER-APPROVED LAYOUT: Designed with help from faithful customers & teachers, the Teacher Lesson Planner

features monthly planning spreads, weekly lesson plans & functional checklists & stickers for a stylish layout!

PRINTED DATES & CALENDAR OPTIONS: Laminated tabs & printed monthly calendar spreads make this planner

optimal for flipping between months! Choose between four unique calendar options to suit your school schedule!

BEAUTIFUL NOTES & QUOTES: Extras like lined note pages and motivational quotes make for happy lesson planning! The 2019-2020 Teacher Lesson Planner

is more than just a classroom essential, it's a life essential!

STICKERS & EXTRAS INCLUDED: We coil in extra surprises so our customers can celebrate each day in the classroom! Our Teacher Lesson Planner

includes four pages of coiled in stickers (some metallic!) & a dual-sided folder!

CUSTOMIZE YOUR LESSON PLANNER: While each Teacher Lesson Planner

is built with the basics, upgrade your experience with more checklist pages, page protectors and accessories for a truly personalized planning experience!
But, what if you're not a teacher?
Yes, it is possible that there are busy parents or entrepreneurs that want to use the larger sized teacher planner for their own personal use. I LOVED using the teacher planner this past year off and on for content planning. Here's how I did it:
For the weekly spread, there are six different subject areas. With a teach planner, you plan ACROSS horizontally and not vertically. This may be a change for some. I use categories like "blog," "business," "email," and "products" instead of traditional educational subjects. This is how this planner instantly becomes a content planner with a LOT of room for dreaming up big ideas.
I used the student checklists for habits. For example, blog daily, Instagram share, check email. I would check off each task as I did it.
Do you have an Erin Condren planner? What do you love most about it?
Erin Condren Reviews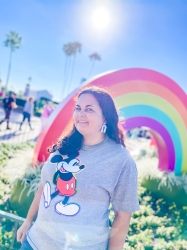 Latest posts by Krystal | Sunny Sweet Days
(see all)