Find Time to be Creative: Erin Condren Planner Review
Whether you're a blogger or a busy mom, there are a few things you can do to find the time to be creative and do the work that you love. I'm still working on that balance (and I'm not sure it really exists), but there are a few steps you can implement to get your best work done.
How to Find Time to be Creative
1. Carve out time. Time exists. I promise. It's just what are you willing to give up? Are you okay with waking up before dawn for an hour to yourself or are you okay with staying up until midnight to finish an assignment? Or, perhaps you are at your best early on a Saturday morning? When I was working full time (and blogging another forty hours a week sometimes!), I did my best work early on Sundays. I would wake up, grab a coffee, and head to the grocery store. I bought anything I might need for my recipes, and I set up all my photos throughout the day. Since I live in Florida, the sunny weather was great for my outdoor photos, and I managed to still squeeze in time in the pool or doing an activity.
I'm actually watching Scandal right now, and there was a line about respecting the schedules of others. This rings so true for my family.
2. Do your work in batches. Whether you're a blogger staging photos or a busy mom who has to run errands, try to do everything at ONCE so you don't have to do it again later in the week. Just like I mentioned above, I tried to do all my work on Sundays. I was all prepared for a busy week when the bulk of the work was done in one shot. I find that it now takes me longer to blog since I do it every day! Crazy, right? I was much more efficient when I did everything in one swoop. I'm working on getting back into that routine!
3. Use tools to simplify your work. Whether you need a meal plan without having to do any work (I prefer Emeals!) or iPhone apps to track your to-dos, it sometimes can be overwhelming to even find the best productivity tools. And, when you find these so-called productivity tools, they might not work for you. Don't get stuck in an endless cycle of trying new apps and deleting them soon after. Try Evernote to gather all your thoughts or Workflowy to create endless amounts of lists organized by category. Use Pocket as your ultimate "read it later" tool and to save websites forever. Keep your email under wraps with Mailbox on your iPhone or Android device (side note: Mailbox no longer works. Here are a few lists of email apps to try!). And, of course, don't use Facebook all day. Biggest time suck ever.
If you're a blogger, end social media overwhelm with a tool like CoSchedule. It's a WordPress plugin designed to help save time when you share your posts.

4. Have a paper planner. You knew this was coming, right? While I'm all about using digital tools to make your life simpler, there is something about actually writing down your goals, to dos, and appointments onto paper. Preferably in cute pens that match! Add a few rows of washi tape, cute post its, and snazzy paper clips, and you have a planner that you can't wait to use. That's how I feel about my Erin Condren at least.

This wasn't my first foray into Erin Condren planners. I had one about two years ago, but I didn't love it. I know, I know. But, a planner just really has to be totally functional for me to fall into major like with it. I realized my problem though: I had ordered an August-December of the following year planner so it was really bulky. It was also before she redesigned her tabs (they're now laminated), the months were just one page (They are now two), and there's a metal coil instead of plastic.
Want to try Erin Condren yourself? Sign up to save $10!

Oh, and there's a ruler now!


So, with all those improvements, I had to give it a go. I knew that having a functional planner would be the next step to making sure the new year (yes, it's time to start thinking ahead to 2015) started off on the right foot. And, I have two months to get my planner organized and ready to go!

Want to try Erin Condren yourself? Sign up to save $10!
Let's take a peek inside:

The month is spread out on two pages with a nice long to do list on the side.

The weekly view is similar to what I remember with morning, day, and night. There is room for notes each day along with weekly goals and notes. I will say that the reason I switched from Erin Condren to a Whitney English Day Designer was that I wanted more room for daily appointments. However, now that I work at home, I don't need to fill in the hours as much. I have less "things to do" and more bigger goals and writing deadlines.

The bottom lines have suggestions to use them for lists, daily dos, thoughts, and meal plans. I feel like my Life Planner will be more of a memory book along with keeping my agenda in ship shape. I plan to use it to track fitness and any other family milestones that may happen.

The tabs are laminated and sturdy which I like, and the pages are a good thickness.

The Life Planner also includes a perpetual calendar and contacts so you can add important dates, anniversaries, and contacts to your planner.

No birthday gets left behind!

It's separate and you can store it on your desk or in your planner's keep it together pocket.
There's a clear pouch for pencils, clips, washi tape, or maybe even your business cards. You never know when you're going to need them! Keep reading for a closer look.

Each Life Planner has separate labels and gift stickers for your use throughout the year. What's awesome is I still had stickers left over from last time, so I have a nice collection of labels!

The Life Planner lets you be creative and really find that time in your day to do what matters. Block off evenings for your writing or schedule morning walks. You can even let your planner be visible in your home so your family members can respect your schedule and see what you have planned. Want to try Erin Condren yourself? Sign up to save $10!
5. Invest in yourself. My last time to find time to be creative? Invest in yourself. When you buy something, you're more likely to see the value of it and invest in yourself. This is definitely a pitch for my blogger accountability and action group, Bloggers Get Social, but it comes from the heart. I've participated in numerous entrepreneur and creative blogging courses to help grow my blog, hone my craft, and network with others online. Investing in myself (and in a coach!) has done wonders for my business and my spirit. It is so nice to know that the work that I do matters, and that someone out there is listening. I highly recommend it! And, if you're ready to commit three weeks to growing your blog, why not try Bloggers Get Social?

Here's a closer look at my business cards.

How do you find time to be creative?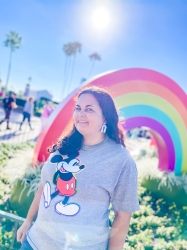 Latest posts by Krystal | Sunny Sweet Days
(see all)