This post is part of my fairy garden series. From creating your own fairy garden to fairy garden inspired crafts and tutorials, keep reading to learn how to enjoy this trend as a cute fairy garden dessert!
This clever idea combines your favorite sweets into an adorable dessert that is perfect for a garden party or a spring soiree.

To create your own edible fairy garden, pick up a few simple supplies.
Edible Fairy Garden Ingredients

The full list of supplies is below, but you will need a cake pan, chocolate pudding, chocolate wafers, candy shreds, gummy flowers, candy rocks, and fairy garden accessories. We found candy succulents for a fun touch to this dessert at Hobby Lobby. If you can't find them you can use this silicon succulent mold to make your own candy succulents!

To start your edible fairy garden, fill the pie pan half ay with chocolate pudding. This is your "mud." Next, you will add a layer of crumbled chocolate wafers. Sprinkle the candy shreds over half of the wafers. This is the "grass." Get creative here!

You can create a small "pond" using the chocolate rocks to make a circle. Blue candy shreds can become the water.

Add your other candy accents, like your succulents and gummy flowers, for more fun.
Edible Fairy Garden
Make this fairy garden with edible ingredients. It's a sweet dessert that is perfect for your fairy garden loving heart!
Tools
Cake pan or metal pie pan
Instructions
Begin by filling the cake or pie pan ½ way full of chocolate pudding. This will act as the mud in your garden.
Now, add a layer of chocolate wafers all crumbled up. This will act as the dirt in the edible fairy garden. You can crush the chocolate wafers or cookies as fine or as rough as you wish. After adding them, your pan should be about ¾ of the way full.
Sprinkle the green candy shreds over a portion of the wafers. This will act as your grass. You can choose to use as little or as much as you wish.
Create a small, edible pond when you use the chocolate rocks to make a circle, then fill the circle in with blue candy shreds for water.
Add in other candy accents such as a gummy flower walkway and candy succulent accents.
We also created a small rock bed using the chocolate rocks. You can reserve your rocks for one portion of the garden or use them all over.
Finish by adding a small fairy house. You may wish to place them on a firm surface such as one of the gummy flowers.
Recommended Products
As an Amazon Associate and member of other affiliate programs, I earn from qualifying purchases.

Your edible fairy garden is now ready to be enjoyed.
Are you ready to make your own DIY edible fairy garden?

Gardening Inspiration: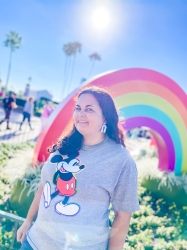 Latest posts by Krystal | Sunny Sweet Days
(see all)