I can be a little out of control with my online shopping. Sometimes days in the office are slow and you can only play Bejeweled Blitz for so long. I had always been a MyPoints kind of girl: check my email and get 5 points for reading or 25 points for joining some newsletter. Occasionally I would make a Vera Bradley purchase to give me about 50 points. It seemed like it took literally forever to get enough points to get something worthwhile. I have been a member about two years and just redeemed points to get my 4th gift card ($25 to Macy's). Previously I had earned $25 to Target, $25 to Outback Steakhouse and another $25 to Macy's. Sure, getting something free for essentially doing nothing is great. I can't be picky, yet the process just felt like forever.
I discovered Ebates through another blog, and I have been giving it a go. So far, I am impressed with the cash back deals and I have made several purchases. Perhaps seeing things in terms of cash back makes me like this site more. Instead of seeing "1 point per purchase" like MyPoints, I see "3% cash back." If it makes any sense, I feel like Ebates is more of a money maker than MyPoints. I purchased an Entertainment Book yesterday and received $6 cash back! MyPoints offered 500 points for the same transaction. Considering a $25 Target gift card requires 3,900 points… the points versus cash back does not translate similarly. To sign up for Ebates, here is my referral link. You will get $5 for signing up (and so will I!).
Either way, I enjoy using both sites. They are very user-friendly and definitely should be your "go to" before committing to any online purchase. I have just signed up for Swag Bucks as well, and I will soon learn how to conquer that site. If anyone has any pointers, I would love to hear them!
Budget Tips to Save You Money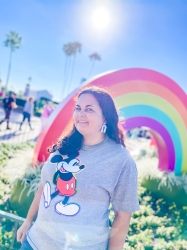 Latest posts by Krystal | Sunny Sweet Days
(see all)