Creative Ways To Eat More Fruits and Vegetables
This post was sponsored by Fresh From Florida as part of an Influencer Activation for Influence Central, however all opinions expressed are my own.
As a native Floridian, there are certain times of year that I truly look forward to. When the new year begins, we anticipate fresh Florida strawberries and our annual Strawberry Festival. I love early mornings at the farmer's markets, sipping on iced coffee even in the winter, and stocking up on Fresh from Florida fruits and vegetables. We have the amazing luxury of eating fresh foods during the winter, and my goal is to serve colorful and healthy fruits and vegetables this season.

Florida farmers make it easy for everyone to eat fresh produce year-round. When I'm shopping, I look for the Fresh From Florida label. It's hard to miss! Scouring my fridge, I easily found tomatoes and peppers that I had purchased since they were Fresh From Florida.

To encourage my family to eat more fruits and vegetables all year, I came up with a quick list of inspiration for healthy eating. I hope it helps you too!
How to Eat More Fruits and Vegetables
Add them to your eggs. I love to make easy egg cups in the oven with a muffin tin, but you can also make amazing omelets with spinach, tomatoes, sweet peppers, onions, mushrooms, and other vegetable additions. Serve with fresh fruit for an undeniably healthy breakfast.
Add fresh vegetables to your lunchtime sandwich. Instead of mayonnaise, swap for fresh guacamole from an avocado. Or, add a slice of Fresh From Florida lettuce and tomatoes!
Blend it up! Use Florida strawberries for a delightfully sweet smoothie! You can mix in vegetables too if you desire. Kale, lettuce, spinach, and even carrots can combine for a tasty smoothie.
Pre-cut fruits and vegetables for simple snacks. There are a number of easy vegetables and fruits that package easily in containers or plastic bags for snacking on the GO! Celery, carrots, peppers, broccoli, and strawberries, melon, and even apples are good on the go. I personally love cherry tomatoes!
Eat a salad a day. You can easily add more fruit and vegetables to your diet when you commit to eating one salad a day. Whether it's a big salad at lunch or a dinner salad before a big meal, you can sneak in two servings of vegetables easily! I like to top my salads with tomatoes, strawberry slices in the summer, and even nectarines.
Start pureeing vegetables. You can make healthier swaps throughout the day with pureed vegetables. For example, applesauce can be used in baking dishes instead of oil. You can puree cauliflower for "mashed" potatoes, or you can use pureed squash in soups or sauces.
Get creative with soup. Vegetable soups are filling and the perfect comfort food for winter. Use vegetable broth and add tomatoes, herbs, squash, and whatever else you want for a deliciously warm appetizer!

When you eat more fresh food, you will feel better and have tastier meals. With plenty of easy access to Fresh From Florida fruits and vegetables, I can enjoy better food from local sources. For more Fresh From Florida recipes and ideas, visit their recipe page and Twitter.
What are your favorite Fresh From Florida fruits and vegetables?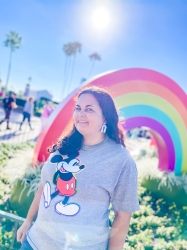 Latest posts by Krystal | Sunny Sweet Days
(see all)