Easy Ways to Build and Retain a Powerful Company Reputation
If there's one thing that money can't buy in business, it is reputation. To give yourself a competitive edge against rivals and secure the best clients and customers, you need to show you can walk the walk, as well as talk the talk. Building a solid reputation won't happen overnight. Instead, it will require sheer effort on your part. However, once you do so and build a loyal audience, you will soon be on the journey to running and maintaining a successful, powerful brand.
As positive messages about your brand spread from person to person, you'll have more and more people checking out your brand, and potentially build a profitable following. With that in mind, here are some easy ways on how to build and retain a positive company reputation and image.
Provide a Quality User Experience
Arguably the easiest way to build a solid reputation among customers and clients is simple – to be incredibly good at what your company does. You need to provide a quality user experience each time. Trust us, your audience will notice. When customers are satisfied with their experience, they're more likely to return time and time again to purchase products or use your services. What's more, these happy customers are more likely to spread positive thoughts about your brand to their loved ones. Over time, you're sure to get additional customers as a result.
Give Priority to Customer Service
If a customer isn't completely happy with your products or services, make sure you've got a dedicated customer support team in place to rectify the matter. Being helpful and friendly can truly go a long way toward helping you maintain a positive reputation. Even if the customer's experience hasn't gone smoothly, if they know there is someone they can get in touch with who is attentive and addresses the matter swiftly, they're more likely to leave the conversation with a smile on their face, rather than a frown. Do your best to make things right and show how much you value your customers. Whether this is in the form of a gift coupon or a discount, any signs that show you value their patronage is key.
Dress the Part, Look the Part
For businesses that engage with the general public and clients, you need to make sure you're giving off a professional first impression. If there is one thing not to do, it's wearing a pair of scruffy sneakers or slacks! Instead, you should be dressing and looking for the part to showcase your brand positively. One way to do this is by outfitting your team in uniform. This helps to create unity among the team. Check out Bolt Printing, as they offer custom t-shirt wholesale deals. You can use their services to get specialist company t shirts that will ooze professionalism. When the average Joe or client sees your staff dressed smart, they will put their trust and faith in your brand.
Respond to Reviews
We live in a world where online reviews can have a huge impact on a company's reputation. Regardless of how much effort you put into trying to please customers, there is always going to be someone who is less than impressed. Unfortunately, it tends to be the ones who aren't happy that make the effort to post negative reviews on social media platforms. You shouldn't worry about this damaging your reputation. Instead, you can address negative reviews in a professional way and listen to what the customer has to say. Tell them you appreciate their feedback and carry on doing your best and trying to provide the best experience you can. When you get a positive review, it's just as important to show gratitude too.
Build Your Online Presence
Customer ratings and reviews are only a small slice of your online presence. To build a powerful business reputation, you'll need to start by making sure you've got a user-friendly and high-quality website that provides vital information about your products or services. You may even want to look into starting a blog that customers can read. Next, it's time to get onto social media. When you create business pages, you can actively engage with customers and advertise your services. Businesses far and wide understand the importance of building an online presence, so now is the moment to follow suit!
Give A Little Something Extra
You'll have a hard time finding someone who doesn't love free stuff. Most of us love surprises, too. With that in mind, why not give your customers a little something extra? This will leave a long-lasting positive impression on them. You don't have to spend a fortune to do this. A small gift with a purchase is an excellent way to show your thanks and make the customer feel that their business is valued. You should consider hosting contests, too. This can help generate interest around your brand and get people talking.
Treat Your Team Well
A successful business is only where it's at now because of its employees. After all, they are the ones who run the ship and keep everything turning. While we don't doubt you put your whole focus into making the business profitable, your team works just as hard to keep the operation alive. Therefore, it's vital you treat your staff well. When you look after your workforce and show your appreciation, they aren't as likely to jump ship and seek alternative employment. Little measures like providing incentives for hard work, revamping the staff room, or offering an extra day's holiday can really go a long way.
Engage With Customers
Make sure to engage with customers both in-person and online so they don't just feel like they are another number in your books. When you listen to their needs and respond, they will continue to do business with you in the future. Sparing some time to acknowledge their thoughts and feelings is critical for your business's reputation.
Showcase Your Expertise
When a potential customer or client is looking to do business, they want to know they're getting the best of the best in terms of service. For this to happen, you need to show that you know what you're talking about. A good idea is to start a blog. This gives you an outlet to craft posts about your business sector. You can also write guides and tutorials to help customers with particular products or services. When you showcase your expertise, people will trust your judgment and feel more confident purchasing from you.
Solidifying your brand is key for long-term success. For any customer or client to do business with you, they're going to check out what others have to say about your company first. Because of this, you need to make sure your reputation is glowing, rather than in tatters!
While you can't help the odd bad review, you can build an operation that prides itself on excellent customer and client service. This will mean the good reviews far outweigh the negatives. Going the extra mile and having passion for what you do will shine in your work and help you curate a healthy business reputation that will stand out in your sector.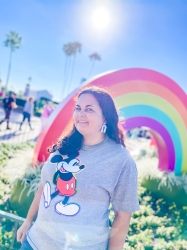 Latest posts by Krystal | Sunny Sweet Days
(see all)