Easy Burlap Home Decor With Sharpie Paint Markers
I wish I was more "crafty." I enjoy listening to music while painting, writing, or creating something. Some days time gets the best of me, and I can admit that I don't DIY as nearly as much as I want to. I appreciate beautiful artwork, and I wish that I could also create memorable pieces to display in my home. Yet, I think I have finally found a creative outlet that is simple and doesn't take too much time. I can complete a project during my son's nap time, and I am excited about all the other creative possibilities!

I'm talking about Sharpie Paint Markers. Instead of trying to round up paints and canvases, these Sharpies are just what I need to exercise my creativity. In fact, I think I have decided these are going to be gifts for the next wedding, birthday, or holiday get together. There are so many possibilities. I shopped at Michael's and loaded up on colorful Sharpie Paint Markers: Oil Based. The oil based ones are good for wood or glass while the water based ones are geared toward paper or windows.
I also picked up a variety of burlap pieces to try them out. I got a burlap stretched over canvas, small coaster sized burlap squares, and even burlap panels (those I'm saving for another day).

It was hard to choose just one! I wanted a variety of tips and colors, so I purchased a five pack that included orange, aqua, lime green, pink, and purple with medium points. I also added in a black and a silver fine point for detailing.

After shaking the marker and pressing it a few times on the surface, out came smooth oil based paint. The color came out evenly and quickly. I thought burlap would be a good medium for my simple DIY since the lines of the burlap helped me stay even. I didn't trace or start off with a sketch. I just started "painting." I decided to create something that could be displayed on my gallery wall, so I went with a simple monogram and our anniversary year.


A few rounds of black paint, and it was almost done.
I went back and did three passes with the marker to fully paint in the monogram.

I added a touch of pink to the corner. I almost went back and added polka dots, but I thought less was more in this case.
The Sharpie Paint Markers are versatile so I tried creating colorful coasters.

Again, the color came out smooth. I wrote silly drinking slogans on each one (cheers, Sunday Funday, Boozesday), and I plan to use them as props for upcoming cocktail recipe photo shoots! The drink in the mason jar is one of my favorites, the Raspberry Acai cocktail.

Now that I have my collection of Sharpie Paint Markers, I'm all set for creative gifts this year. What else can I create?

Want to try them for yourself? Stop by Michael's! Snag more Sharpie inspiration on Facebook and on Twitter.
What would you create with these markers?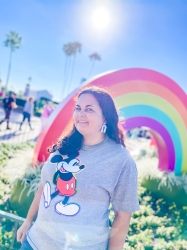 Latest posts by Krystal | Sunny Sweet Days
(see all)