How to Use Dropbox to Get Organized
Paper documents and digital files can consume my everyday existence. Whether I'm searching for an image file on my computer or trying to remember just what "important folder" that document is in, it is SUCH a waste of time. I am trying to streamline my daily tasks, and one of those included getting all my paperwork organized. I had to declutter, digitize certain documents, and I totally needed a new shredder to get rid of unneeded items. My BFF during this process was Dropbox.

I'm going to show you how to use and keep Dropbox organized, and I'm also going to show you just WHAT to use Dropbox for. Here's to getting organized online!
How to Keep Dropbox Organized
Dropbox is a super handy tool that anyone can use. It's free to sign up, but you can also pay for extra storage options. However, it's safe to say that just like anything else in life, Dropbox can get super cluttered too! Here's how to get started and keep your new favorite digital tool organized.
Know how to use Dropbox. It helps to know how Dropbox works in order to keep it organized. Keep in mind that Dropbox is downloadable on your desktop, but you can minimize it so you don't have to keep staring at it. You can also have private folders, shared folders, and even team folders. Dropbox works wonders for those who collaborate and need to keep files organized.
Label folders correctly. I think one of the main ways to be organized with Dropbox is to label the folders correctly. If you don't label the folders right, it can be incredibly difficult to know which is which. I make folders for each year and inside each folder are 12 folders for each month. I also have folders for my blog, photos, and important documents.
Save documents correctly. One of my favorite ways for keeping Dropbox organized is to make sure I save my documents correctly. I always double check to make sure each document saves right before I exit out of Dropbox.
Clean out your folders on a regular basis. I cannot emphasize how important it is to clean out Dropbox on a regular basis. You take out your trash daily and even wash your laundry. Think of Dropbox as an important place you need to keep organized for sanity purposes. You can even create a "trash" folder for documents you want to throw away or double check before they go into the real trash.
Upgrade if needed. I've noticed with Dropbox that it can get really full if I am working on really big projects. In order to keep it organized and from running out of space, I sometimes opt to upgrade. You can easily change it out if you want, and it's not that expensive. Paying a few dollars in order to keep important documents safe is a small price to pay, don't you think?
Make sure Dropbox is syncing. This next organizational tip is especially important if you work from various computers. You will want to make sure your Dropbox is syncing from computer to computer. Typically, my Dropbox has no problem syncing but sometimes I have to go in and make sure everything is okay. This also applies to my phone since I use Dropbox on the go as well.
What You Can Organize With Dropbox
Family Pictures. Pictures are a big deal in this family. I actually love having a hard copy of pictures, a removable disk, and then a copy in the cloud. I first used Dropbox because it was free and had tons of upgrade options if I wanted even more storage. One of the best things I use Dropbox for is storing our family pictures. I don't even store them on the desktop, just in case my computer goes crazy. Dropbox allows me to store family pictures and know exactly where they are. I can have a big folder for "photos" and then label multiple pictures inside of the parent folder. I group photos by year, month, and then event.
Medical Records. Because I do not have a ton of storage space to keep thousands of pieces of paperwork, I actually use Dropbox to store medical records. I can easily take a picture with my phone and then save it to Dropbox. With the help of technology, no one really needs a scanner anymore. By loading them into Dropbox, I have everything right in one spot and it helps me to stay organized. If you do want to turn your documents into PDFs from your phone, try TinyScan. It's my go-to app for turning cell phone photos of documents into PDFs.
Free Printables. I have a folder where all those free printables, email opt-in, courses, and other PDFs that can clutter up my computer go. I go through them every so often, and I keep my favorites to reference later.
Cell Phone Photos. I have Dropbox installed on my iPhone, and I automatically sync my photos from my phone to my computer. This helps give me peace of mind since I know all my photos are backed up continuously! This also works in reverse since I'll save my favorite photos to my Dropbox and grab them on my phone to share on Instagram easily (no more emailing back and forth!).
Shared Paperwork. One of my favorite uses for staying organized with Dropbox is when I have a 'shared' folder with someone. Let's say it's one of my kids' teachers. They can share paperwork that they need me to sign, I can sign it, and then send it back to them. It's so simple and I can always go back and double check to make sure everything is good to go.
Screenshots. Another reason I love using Dropbox on my desktop with Windows is that after I downloaded Dropbox, I noticed that every time I took a screenshot is automatically saved to Dropbox. How awesome is that? I take dozens of screenshots to help me remember things I saw, so this is awesome. I simply can go into Dropbox and find exactly what I was looking for.
What are some ways you use Dropbox to stay organized?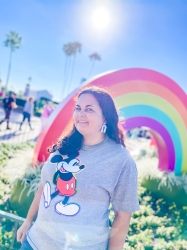 Latest posts by Krystal | Sunny Sweet Days
(see all)