6 Ways to Budget for Giving Back
I sometimes feel guilty that I can't give more to charitable causes than I do. Sometimes there just doesn't feel like there is much left or I am booked on my days off so I can't donate my time either. However, there are other ways to give back in small ways that you can do every day.
Look for small ways to give at your local grocery store checkout

. There is usually some kind of promotion where you can add $1 or more to your final bill to donate to a food bank, for school supplies, or whatever other promotion is going on. A dollar every grocery trip might not break your budget, but it can make a big difference to those in need.

Don't forget about collection bins. I recently moved to an area that has a shopping plaza with donation bins for cell phones, glasses, books, clothing, and canned goods. It makes it REALLY convenient to stop in and donate what I can. I try to keep my home as decluttered as possible, so books and cans are my go-to donation items. Back to school time is an awesome way to stock up on supplies on sale, so try grabbing $1 school supplies to donate!
Shop online with Giving Assistant

.

 Giving Assistant, a cash back website that gives the highest cash back rates for stores that sell high-quality products ranging from beauty, home goods, food, technology, and more. You receive 100% of the affiliate commission, and you can choose to donate some of your earnings to the charity of your choice! To get started, visit their website and create an account. You will see coupon codes and other deals and earn cash back!
Shopping at Edible Arrangements saves you 2% cash back, at Michael's 4%, at Mark and Graham 3% donation, and even Gilt saves you 8%. There are tons of others stores as well! With a few clicks of a mouse, you are doing your part to give back to the charity of your choice.

You can even combine cash back with coupons to save more and more dough!
Try donation matching

. Some charities will offer special promotions with donation matching so keep an eye out! Your employer might also have a giving back program that will provide a day off in exchange for service or will match your donation amount.

Set up an automatic donation. All charities need funds and setting up a recurring payment can be a great way to support a cause you believe in. These days, most good charities will have easy-to-use websites. For example, Sanctity of Life will let you set up a payment to send a donation of $5 or $10 every week, bi-weekly, or even monthly. If you ever fall short, you can cancel the transfer or lessen the amount.
Time is just as valuable as treasure

. When I worked in a non-profit, we always said that time, treasure, or talent was appreciated. If you can't give money, your time or your talent is just as important. Donating a special skill to a non-profit (like helping to build a garden at an art center or cooking for a homeless charity).
If you really think about it, you can do small actionable charitable tasks every day. Donating more in small increments is less noticeable on your budget, and you can find a way to use your special talents to help others in need. You always have a way to give back and help others.
Have you signed up for Giving Assistant?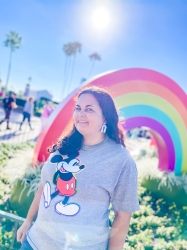 Latest posts by Krystal | Sunny Sweet Days
(see all)