Dollar Essential Oil Supplies: Stock Up For Just a Buck
Each and every week, I'll be sharing easy ways to maximize your dollar at your local dollar store. From five dollar meal ideas to closet organization, you can find a LOT for just a buck. Don't miss an update, and sign up for my mailing list. I know what you are probably thinking…what on Earth could Dollar Tree have to help with my essential oil experience? But the truth is, your local Dollar Tree has several items perfect for making your essential oil experiences a better (and more organized) one! Take a look below at seven essential oil supplies you can find at Dollar Tree. While essential oils aren't on this list, plenty of other items you can use with them are! And, if you want to buy essential oils, read more about them on my essential oils page!

1. Pill boxes. Do you like to put your essential oils into capsule form? If so, grab a pill box or two to keep your capsules safe and organized. Dollar Tree has weekly containers as well as travel size, perfect for taking with you on the go.
2. Eye masks. If you use essential oils for relaxation, sleep, or headaches, then buy a fabric eye mask. You can add a few dabs to the sides or outside portion so that when you wear the mask, you can breathe the oils in. Just be careful about putting anything too close to your eyes!
3. Oil burners. If you are one of those people who likes to burn their oils, you can grab a variety of ceramic or metal oil burners for just a buck. Just add a drop of oil and place a votive underneath. You will be reaping the benefits in no time!
4. Labels. If you enjoy making your own essential oil mixtures and recipes, snag a package of paper or chalkboard labels. You can cut them into small sizes and use them to keep your bottles and rollers labeled and organized. I've been all about chalkboard labels lately.
5. Containers. Dollar Tree as all sorts of compartments, baskets, and containers perfect for keeping your oils organized. The snap tight lid containers with lids are great for when traveling with the oils and can really prevent a mess.
6. Journals. Use Dollar Store journals to write down essential oil recipes you like, ideas, uses, your distributor information (I am constantly forgetting my information and log in!), and other notes. Keep your journal with your oils in the container ideas mentioned above. It's important to have a separate place for all your essential oil information so that you can reference it often.
7. Cotton balls and q-tips. Can you ever have enough cotton balls and q-tips on hand? These are great for applying oils to the body or to use when using oils for pest repellants.
Did you ever think Dollar Tree would be part of your essential oil experience? Head over to Dollar Tree and see how these items can enhance your essential oil experience for just a buck!
Essential Oils to Try
Do you use essential oils? What items are a must to have when you start using them?
Learn more about my crafts + recipes that use essential oils.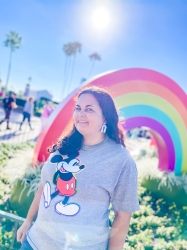 Latest posts by Krystal | Sunny Sweet Days
(see all)