Dog Friendly Summer Activities With Milo's Kitchen
This fluffy lovin' dog post was sponsored by Milo's Kitchen, however, all opinions are my own.

We have two large dogs that literally wake us up for treats. I am not kidding. As soon as the sun rises, they hop on our bed to encourage us to hop out of bed. They like to have their morning walk followed by breakfast and a treat. They have come to expect this. When we don't provide them with the treats they desire, they can be quite vocal about it! Keep reading to learn more about what we are doing with our dogs this summer and how to reward your pets for good behavior! We always like to give them their favorite treat, Milo's Kitchen® homestyle dog treats. They deserve the best!
Kamikaze is a 9 year old chow and akita mix, and Lucian is a 3 year old chow mix. You might have realized we have a thing for chows. While they certainly have personalities, they are a lot of fun! Lucian is more of a puppy and enjoys being outside and rolling in the grass, and Kaze likes long naps on the cool tile of our home.
Our pups deserve a homestyle dog treat like Milo's Kitchen® homestyle dog treats. They are made with 100% real meat which is important for our approval. Each one has no artificial flavors or colors and is produced in the USA. We wanted to try both the chicken recipe with wild rice and spring vegetables and the beef recipe with brisket and garden vegetables. Let's see…which one do they like better?

We found both flavors at Walmart near the pet gear.
Save When You Shop
Click here to earn cash back from Ibotta. We use Ibotta pretty often when we are shopping at our favorite stores. You simply use the app to add your favorite offers, shop, and scan in your receipt. Cash back in seconds!
To reward our dogs this summer, we are turning to Milo's Kitchen® homestyle dog treats!

Pet-Friendly Summer Ideas
To celebrate the warmer weather and summertime, I wanted to create a list of fun activities to enjoy with your pet!
Dog parks. We are lucky to live in an area with several dog parks. There are obstacles for them to run and jump through, and they are gated which makes it safe! Plus, there are separate areas for small dogs and large dogs.
Dog beaches. Perhaps my favorite activity with our pets is to hit the beach. They love the sand and surf!
Patios at restaurants. Many restaurants allow pets outdoors. Call ahead to confirm, and get ready to enjoy a nice summer breeze while eating al fresco.
Craft breweries. Many craft breweries in our area welcome pets. It's a nice, relaxing outing for everyone.
Paddleboarding. Cool off with a paddleboard and your pup! Rent or purchase a paddleboard that you can enjoy all season long.
Kiddie pool fun. A cheap kiddie pool might be just what your backyard needs. Cool off with your furry friend and enjoy the sun!
Dog friendly baseball games. We have both minor league baseball teams and a major league baseball team that welcomes dogs on specific nights. Check their websites for the information!
Don't forget that concrete is hot on your little pup's paws, so travel carefully. Plan ahead with bottles of water and traveling bowl to make it easier for your pet to stay hydrated on the go.
And, after a day out with good behavior, be sure to reward your best buddy with a delicious treat!
Tips For Dog Owners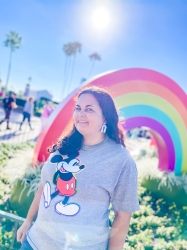 Latest posts by Krystal | Sunny Sweet Days
(see all)