Dog Apartment Essentials: Living Small With a Large Pet
This is a sponsored post written by me on behalf of Skout's Honor. All opinions are 100% mine.
Last year we were forced to downsize our living arrangements from a four bedroom house with a big, private backyard to a townhouse with literally half the square footage. Sacrifices were made. Of course one sacrifice that couldn't be made was in respect to our dog, Kaze. He isn't exactly built for apartment life. He is large and fluffy. He's not very mobile and stairs aren't really his thing, so he can't make it upstairs. Essentially, he is a 60-pound funk sponge who is confined to two rooms. He always seems to be in the way and there in no way to escape the signs of a large dog. it's like living with a polar bear in a birdcage.

Here are a few handy tips to living with your big animals in small places:
Give Your Dog Their Own Space. When you have two adults, a kid and a dog living in a confined space, everyone needs a place that they can retreat to when the daily chaos gets to be too much. It is essential if you want to keep your sanity. This goes for the four-legged members of the family too. No matter how cramped your space is, you should try and set aside a small nook or corner that is out of the high traffic areas and is totally theirs to retreat to. Having individual space, where you can relax while surrounded by familiar things helps take the stress out of living situations. This is where you can put their dog bed or a favorite rug to lay on. For Kaze, his spot is right under the living room window with a wicker basket of toys and balls sitting right next to it.
Organize Your Dog items. Space can be a limited commodity when you have to downsize your living situation. Designate a shelf or drawer beforehand to keep all your pet related items in one place. This avoids having supplies spread throughout your apartment and will help you keep those supplies in a readily identifiable spot. Also, since attracting bugs is a big concern when you live in a small space —especially in Florida—it is a good idea to have sealable bins to keep dog food and other perishables in that can keep from attracting unwanted pests.

Keep Them Groomed. Kaze is a chow chow mix, meaning he has a fur coat genetically evolved to withstand Mongolian winters in the mountains. We live in Florida. We still mark the day it snowed for half an hour forty years ago. This means that every year, Kaze grows in a thick, winter coat as soon as the first cold snap hits somewhere in early October and then sheds all of that extra fur until the baseball teams head back north after spring training. Basically, hair gets everywhere. They roll across the floor like tumbleweeds in an old spaghetti western. Every time you walk out of the house you look like a Wookie because of all the hair stuck to your clothes. We tried to have him shaved down, but that only made the shedding worse the next time around. The best thing you can do is bathe and brush your dog on a regular basis to keep the free-floating fur to a minimum. Just be sure to use the right shampoo and brush for your pup's fur type. Some of the best smelling dog shampoos are coconut, oatmeal, and aloe-based. There are also special de-shedding shampoos that help control shedding, too. Giving them scheduled baths and brushing them regularly can cut down on this fur-laden frustration.
Clean Your Air Filters Regularly. Speaking of hair…. Here in Florida, we tend to have to run our air conditioner for approximately 347 days out of the year. You may not realize it but your air filter is the last line of defense when it comes to keeping hair, dog dandruff and other pet related particulate from spreading throughout your living quarters. Keeping a fresh filter on the air exchange of your HVAC system will help remove those things before they get dispersed to the rest of the house, in our case the upstairs bedrooms. It will also cut down on things like pet-born allergies and improve the air quality and smell of the rest of the house or apartment. And since nobody likes living in a place that perpetually smells like a kennel…
Keep The Funk To a Minimum. Did I mention above that our dog was a funk sponge? That was not an exaggeration. That big, fluffy coat of his absorbs all the smells. All of the smells. It can be an assault on the senses. All the candles and fabric sprays can't always keep the myriad of scents at bay.

If you want to keep the pet smells at bay in your home, try something specifically designed to eliminate pet-related odors. We suggest something like Skout's Honor Odor Eliminator. All of their products are are natural, non-toxic, plant-derived, earth-friendly, biodegradable, cruelty-free and safe to use around your pets, family and home.

According to their official description, "Skout's Honor is a California based start up with a passion for creating quality products that make a difference. They are a premium household cleaning brand with a line of thoughtfully designed products for individuals and families with pets. Skout's Honor is an environmentally and socially conscious company. They strive to make Better, Faster, Stronger natural cleaning solutions for everyday pet stains and odors."

They also make a carpet stain & odor remover which comes in handy when your dog has a habit for foraging through garbage and your kids leftovers for snacks and end up leaving puddles of surprises on the carpets when their stomach rejects their self-found treats. As an added bonus, the company donates a day's worth of food to local animal shelters for each bottle of product sold.

With a little bit of effort, everyone –adults, kids and furry members of the family–can live in harmony under the same roof. No matter how small the space may be. Learn where to buy these products and enjoy a fresher smelling home!
Tips For Dog Owners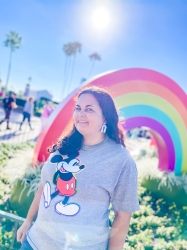 Latest posts by Krystal | Sunny Sweet Days
(see all)