Easy Home Decor With Stikwood | DIY Plank Headboard
It's easy to feel overwhelmed by the time to make your home feel like yours. But, I have some fun and easy ways you can add personality with just a few minutes! Sometimes all it takes is adding decor, a fun accent wall, or a new fun piece of furniture. Have fun adding personality to your space today with these tips and additions from Stikwood!
1- Add a fun new headboard to your bedroom with Stikwood. A headboard gives that extra bit of style and flair when guests come over. They also can bring life to an older bedroom set. Stikwood has sooooo many options of its classic reclaimed wood styles. These REALLY make a statement when guests see your room. It can really make it look like you've completely remodeled the room, even if you've just changed the headboard — because all eyes will be on that amazing headboard!
Here's how to get started with the Stikwood headboard. We received a box with planks in weathered grey that had adhesive already ready to go. The actual headboard piece had boxes and numbers to help you place the boards in the exact spot they need to go.
Here are the official specs from the Stikwood website:
Sizes | Queen: 35 H x 64 W | King: 35 H x 80 W
Once the headboard is assembled and someone has firmly attached the wood to the headboard, you can hang it on your wall. It came with a level so we knew were getting it perfect.
It's a very simple piece that attaches to the wall so you can move it if you need to. Take your time and be careful with this step, but it overall was very simple.
The piece on the back of the headboard lightly rests into the piece that you screw into your wall.
We have a king bed and here's it set up so you can see the height with pillows:
We (obviously) still love it, and it's probably one of the best decor pieces we have in our home.
New Home Decor Ideas
2- Put up a new accent wall from Stikwood! Now, this is a really fun and easy tip. Stikwood has many types of accent walls from weathered wood to reclaimed silver and they are SUPER easy to install. I have the reclaimed weathered wood in grey (to match our headboard!), and it looks amazing in my living room. I'm going to reveal this in a new post, but here's a preview!
We have gotten SO many compliments on it! Stikwood has over 30 unique finishes- and you just peel and stick. You don't need to remove your baseboard or do anything to prep — just peel and stick. Easy peasy!
3- Pick up some fun paintings. You can purchase multiple prints in the same size, one frame, and just swap out the prints for a fun way to keep your decor fresh. Friends and family will think you're constantly decorating when you've just got a smart secret stash of prints!
4. Get some brightly colored statement pieces. You can find some fun end tables or small vases to put around your house to brighten up your space and add a nice personal touch. These pieces also won't take up much space as a bonus!
I hope you've enjoyed our tips on how to personalize your home space with these quick and easy tips. Do you have any tips? Leave them below!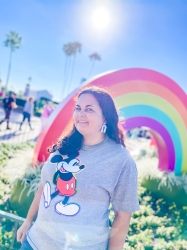 Latest posts by Krystal | Sunny Sweet Days
(see all)