How to Make a Cheap DIY Photo Booth
Photo booths are a blast, and a great way to entertain your party guests. If you want to have a photo booth at your next gathering, there is no need to spend a lot of dough. Instead, head to your local Dollar Tree where you will find all of the supplies you need for quick and easy photo booth supplies. Here is how you can get started.

Supplies needed:
Construction paper
Craft foam
White and black poster board
Markers
Glue
Popsicle sticks
Confetti
These are the supplies you will need to craft some of the photo booth props. You can also grab some ready-made props while you are there. Ideas for props would include sunglasses, tiaras, leis and boas, and goofy hats. Don't forget to grab a plastic bucket or container to store all of your photo booth props in! You could also look for a vintage suitcase at a thrift store for storage.
Now, let's try making some additional photo props. Here are some ideas you can try:
Confetti

Gather confetti and blow it into the camera. With proper timing, you can catch a few glittering shots!
Smile
Cut lips out of some red paper and glue them to the wood craft sticks. They will make the perfect pouty smile!
Word Bubbles
Cut white clouds out of white paper or foam and write words in them. Words could be something like: hi, cool, look at us, smile, cheese, etc. Glue the cloud to a stick to act as a word bubble during the photos.
Hearts
Cut hearts (pink, purple, or red) out of foam or paper and glue them to craft sticks. They are perfect for couples to hold up between themselves when taking a quick picture.
Halo and Horns
Cut an oval out of yellow paper or foam, as well as a pair of red horns and glue them to the craft sticks. Hold up over each other's heads for a fun angel and devil picture.
Bunny Ears
Use white and pink foam or paper to craft bunny ears. You can glue them to a head band or attach them to a craft stick to hold up behind each other's heads for a fun picture.
Once you are ready, assemble your props on a table for guests to enjoy. Your white and black poster board makes the perfect backdrop for your photo booth. Just tape the pieces (several together work nicely and make for a nice big backdrop) and instruct guests to stand in front of them when saying "cheese." You can then have a friend be in charge of the camera or place some disposable cameras on the table with the props. Do what is easiest for you and your guests so minimal work is involved.
As you can see, making your own budget friendly photo booth can be easy and fun! They are a great way to entertain your guests at parties, and they are sure to leave you with some lasting memories. Head to your local Dollar Tree and give these easy photo booth suggestions a try! You will be snapping some fun pictures in no time.
Want more photography ideas?
You might also love this idea to make your own photo backdrop!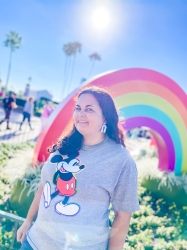 Latest posts by Krystal | Sunny Sweet Days
(see all)