Cure Cabin Fever With a DIY Cereal Bar
While I know some of us are dealing with harsh weather, icy roads, and too much snow, I hope that everyone is staying safe and warm indoors. The weather down south hasn't been too crazy, but we have had our moments of cold (and then hot. and then cold again…). If you're going stir crazy inside your home or are just looking for fun activities to do with your family, try turning something ordinary into something extraordinary. Delight your kids with a DIY Cereal Bar.
Gather your favorite cereals and open your pantry and fridge to find toppings. I wanted to make a fresh fruit cereal bar, but you can easily use chocolate, yogurt, or other treats in your home.

Let your family serve themselves to create their special morning meal. My son, even though he is barely two, already has a cereal preference! He likes to mix and match Froot Loops, bananas, and Krave.

This project is a fun way to start the day, and it is easy! I always have miniature bowls on hand, and slicing fruit takes a few minutes. Enlist the help of your children to create a cereal bowl that is both memorable and tasty.

As I mentioned earlier, my son's favorite fruit seems to be bananas. He is constantly grabbing for them, and he sometimes gets anxious and tries to eat one without peeling it first! His favorite cereal bar concoction would have to be Froot Loops with fresh bananas.

While my husband's creation included Raisin Bran and strawberries.
My favorite creation? A little bit of everything!

Top your creation with your favorite milk and breakfast is served!
Thirsty? If you can handle an early morning cocktail, try one of these concoctions!

Spiked Blueberry Lemonade
Grapefruit Mimosa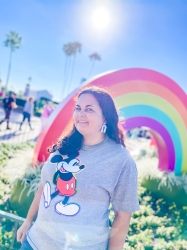 Latest posts by Krystal | Sunny Sweet Days
(see all)