This post was sponsored by Amazon in partnership with Forward Influence. However, all opinions are 100% my own. 
Amazon is great when it comes to putting together the perfect costume. We recently talked about how we are able to put together our recent costumes for our local comic convention using items found on Amazon Prime. Of course, you can find just about everything you need to get in the Halloween spirit with just a few clicks. And while Prime has tons of ready-made costumes at your beck and call, you really only need the box it was shipped to your doorstep in to make a memorable costume.
That's right – Boxtumes! Boxtumes are creative costumes made at home using Amazon smile boxes and crafting supplies that you already have around the house.
Boxtumes are fun for the whole family and supplies are just a click away with unlimited fast, free delivery for Prime members.
This year, we decided to create our own Amazon aquarium costume. We are a very fish-centric family, so it made sense to make a family project out of it. The best part, the whole thing was made requiring only three dollars of new materials.
WHAT YOU NEED:
1 large Amazon smile box

1 boxcutter razor

1 battery-powered tea lite

2′ 2-lb test fishing line

Packing tape

Various colored tempura paints

Bubble wrap

Packing paper

Plastic plants (Optional)
Step 1: Seal empty box using Amazon packing tape.

Step 2: On front of box, measure in approximately 1 inch from each edge to create a rectangle.

Step 3: Using boxcutter, cut out the rectangle. Do not discard the removed piece.

Step 4: Repeat Step 3 on one of the smaller sides of box.
Step 5: Cut a circular hole in the bottom of the box that is big enough to fit a head through

Step 6: Using a blue-colored paint, cover the inside area of the box. Let dry.

Step 7: Cut bubble wrap to fit top side of box. Tape into place on roof of box. Affix tea light.

Step 8: Cut packing material into strips and tape into place to replicate coral and seaweed.
Step 9: Using excess cardboard from step 3/4, stencil fish and other aquarium denizens.

Step 10: Paint fish. Use fishing line to hang from roof of box.
Smile boxes can also be used to craft other custom Halloween items – from DIY treat containers and masks to decorations and haunted houses.
This year, Amazon is taking boxtumes to the next level with spooky box-inspired DIY décor that is sure to set your home apart from the pack.
Did you rock the Boxtume? Show off your own creativity using #boxtumes, #amazonprime and #morethanabox.

Pin this:
Halloween Ideas For Kids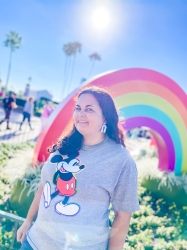 Latest posts by Krystal | Sunny Sweet Days
(see all)