Get Organized: Whitney English Day Designer Review
Throughout the week, I've shared a few notebooks and binder ideas for organization in the new year. I have utilized a LOT of free and paid printables, washi tape, and fun dividers to jazz up my family binder, my goals notebook, and my blog planner. There's only one part missing…my work life.
Yes, I do hold down a regular nine to five gig. I need a planner that is LARGE with hourly slots and a LOT of room for To Do lists.
Enter The Day Designer. This planner was actually not my first choice. I purchased a super cute handmade planner, but the shop owner decided not to create them for 2014. She sent over a list of comparable products, and I knew the Day Designer was going to be my go-to planner for the new year. I have previously used Erin Condren for 2011 and 2012. I didn't feel like I had enough room so for 2013 I created my own planner with ETSY printables. This year I didn't want to have to reprint my calendars every month (and I have a blog planner to print throughout the year already!). So, I wanted to return to a hardcover planner.
Whitney English Day Designer
There were no fancy covers to decide between when I placed my order. I had the pick of classic black and white or gold and white. The simplicity of the design is perfect for my needs. I didn't have to think about customization, adding photographs, or personalized labels.
One feature of the planner that I was curious about were the brand and goal setting worksheets in the front. I was impressed with the forms, and I was able to brainstorm new ideas as the new year began. I created a list of my core values, and I evaluated what things I was good at versus what was taking up most of my time.
Now…onto the pages! I love how the planner is laid out. I definitely recommend this planner to someone who leads a busy life. I'm able to add in my meals for the day, my hourly schedule, my (always lengthy!) to do list, and spots for notes and gratitude. All in all, it has everything that I could ever want in a day to day planner!
I like to keep my blogging business separate (just so my planner isn't overrun with other items), and my family binder is also separate from my day to day planning.
Add in a little washi tape to make this classy planner fun!
Similar here:
Do you have a planner that you carry with you everywhere? Are you a Day Designer fan?
—
Other Planner Inspiration:
Goals & Resolution Planning
Whitney English Planners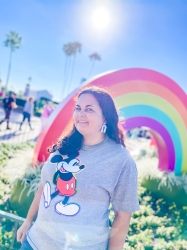 Latest posts by Krystal | Sunny Sweet Days
(see all)