Creating Healthy Habits With Strawberry Smoothies
This shop has been compensated by Collective Bias, Inc. and its advertiser. All opinions are mine alone.#KefirCreations #CollectiveBias
July seems to be the month of growth of me. I've been focusing on what motivates me, what goals I have, and how to make the most of my mornings. I've been using my planner more often, taking afternoon breaks to recharge, and now it's time to try to reshape my healthy habits. At the current moment, I don't have any. I was doing quite well last year, but I have somehow fallen off the path to wellness. Since I'm creating new habits elsewhere in my life, it's time to focus on my health. I was inspired by Lifeway Kefir, and I hope you will be too.

1. Start my day with a smoothie. While I do enjoy coffee, the caffeine seems to have an effect on my energy levels (afternoon crash!) and my nerves. If I drink too much, I instantly feel stressed out. And, no, I don't want to switch to decaf. I'd rather just not drink it. In an effort to infuse my diet with a bit more health and wellness, I've been giving Lifeway Kefir probiotic smoothies a try.

Lifeway Kefir has a smooth taste and is refreshing. It's a "cousin" of yougurt, and its probiotic cultures have long been discussed as well-being enchancer. Lifeway Kefir contains 12 live and active Probiotic cultures that support the immune system and balance digestive health. It is naturally Gluten Free, 99% Lactose Free and contains No Artificial Sweeteners and is rich in Calcium. Lifeway also only uses milk that comes from cows that are not treated with pesticides, antibiotics, or synthetic growth hormones. The cows are grass fed and GMO free. I found this at my local Winn-Dixie, and you can too! I also saw a lowfat plain, lowfat blueberry, and a lowfat strawberry banana. I chose the strawberry flavor for my first round since I knew I would enjoy the taste. Save some money if you sign up for coupons on Lifeway's website.

I enjoyed my strawberry smoothie for breakfast today, and I added some fresh strawberries.

I was impressed by all the health benefits that this product offers, so I think I'm going to make this an every day thing. The 32 ounce bottle will last me more than one day, but I will have to head back to Winn Dixie to get a few more bottles. Next time I'm trying the strawberry banana flavor for sure.

I wanted to share this picture to show the consistency of the strawberry smoothie. It was thick, but not overpowering. It was just right!
2. Enjoy more seasonal fruit. I love to photograph fruit. I love to pick fruit. I love to BUY fruit. Yet, somehow, I end up tossing most of it. It goes bad before I even touch it. I'm working on eating more fruit for breakfast and as a healthy snack throughout the day. My toddler is currently obsessed with melons, so I need to just start sharing with him!

3. Track my daily steps. I would really like to buy a Fit Bit or an UP by Jawbone device this month. I've been researching them both, but I haven't come up with any conclusions. I'd like something that can sync seamlessly to my phone and inspire me to get moving. I read a great article this week about how sometimes people need to be rewarded to reach their goals…even if it is as simple as a daily steps goal on an electronic device. It resonated with me, because it's true. I seem to reach my goals when I track them online (whether it's here on my blog or in my journal). Saying them aloud, writing them down, or just having a reminder on my phone seems to help. I think something that reminded me that I made (or didn't make) my walking goals would be quite helpful.
4. Keep a healthy habits journal. I have been cleaning up my office, and I came across a journal I started late last year. I was using it to document my energy levels and my food.

I just thought this fit in perfectly with my new healthy habits. I'm going to return to this journal, review my notes, and work on creating new goals for the rest of 2014. This page was appropriate to share. "Does this bring me energy?" I was reading a passage from Gretchen Rubin ("The Happiness Project") about radiators and drains. It basically was a metaphor for things that bring you energy and things that drain your energy. It is so important to only do those things that bring you energy! I've actually started saying no to things that drain me or are projects with no pay, little return on investment, or are just exhausting.
5. Drink more water. Well, this is a given. I've started infusing water, and I use my planner to track my daily intake. I've got a few glasses to go for the rest of the day, and I hope to make this a habit that doesn't need tracking. It will come naturally.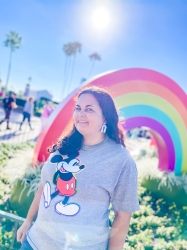 Latest posts by Krystal | Sunny Sweet Days
(see all)