How to Host a Budget-Friendly Craft Beer Party
Craft Beer Parties are all the rage right now. From a simple beer and pizza night to a craft beer tasting party – your guests are sure to have a great time. Throw a successful party by purchasing your supplies at your local Dollar Store and save your money for the good stuff… beer! Though, don't worry, I have a few ideas to save a few bucks on craft beers too! Keep reading to learn how to use craft beer coupons from a few of my favorite smartphone apps.
Craft Beer Coupons
The star of your party will be, of course, craft beer. Since you probably won't want to serve Bud Light, there are a few ways that you can earn cash back on your beer purchases! I am ALWAYS impressed by the variety of cash back options on apps like Ibotta and Checkout 51. If you're not familiar with these apps, you unlock offers and submit your receipts for cash back. It adds up, and I love the flexibility and bonuses that they offer!
Ibotta Beer Rebates
Here is a sample of what Ibotta is featuring this week, and there were over 30 offers for different kinds of beers! I've discovered new beers from browsing the cash back offers, and I was inspired to try new combinations. Sometimes there will be a pizza and a beer offer or a snack paired with a flavored beer. It's a great first step to planning your party since you could stock up on beer AND snacks while earning money back.

Ibotta is not the only app that offers cash back on beer! I recently discovered that Checkout 51 also has beer, wine, and spirit offers too.
This app is another one of my favorites to use while I shop. Here is a sample of what is available this week:

Leinenkugel's is actually one of my favorites, and $2 cash back is a pretty solid deal for a six pack! Use these two apps together to see just what you can get and how much cash back you can earn! A few six-packs could add up to $10 cash back or more!
Craft Beer Party Supplies
After your beverages have been purchased, shop a local dollar store to find budget-friendly party supplies.
Koozies. You can find a variety of colors at your local Dollar Store so each person can claim their drink with their own koozie. These also double as party favors.
Bottle Opener. Grab a couple of bottle openers for only $1 each to lay on every table at the party.
Scrapbook Paper. Make decorative placemats by using patterned scrapbook paper. You can also purchase the letter stickers or stencils in the craft aisle at the Dollar Store to write each guest's name on their placemat.
Chalkboard Sign. If your local Dollar Store does not have the pre-made chalkboard signs ready for you to write on and hang, you can search for the chalkboard paper instead. Create your own signs next to each beer and appetizer so everyone knows what they are sampling. Chalkboard paper also serves well as a table runner that you can write on!
Notecards & Pens. Each guest will need their own mini notebook or notecards plus a pen to journal their thoughts on each craft beer they taste. You can even make it a game by having each guest write their thoughts and place their card into a basket, then at the end of the night let someone read the answers and the others guess who wrote each opinion. The one with the most answers correctly wins free beer!
Labels. Make your craft beer tasting party even more fun by creating your own custom labels to cover the beer bottles. Let your guests guess which beer they are tasting. This way their opinions on taste will not be bias to brands of beer. You can buy packages of labels at the Dollar Store and print or write your own phrases on them.

Snacks. Pretzels, popcorn, peanuts and chips… Your Dollar Store is sure to have snacks that pair well with craft beer.
Ice Bucket. Place extra bottles of beer in a bucket of ice. Not only does this make it easy to serve your guests but it also doubles as decor for your craft beer party.
Beer Mugs. The Dollar Store has beer mugs both in glass and plastic. You can even purchase the frosted beer mugs and place in the freezer the night before your party.
Plastic Shooters. Not everyone attending the party will enjoy each craft beer. To make the tasting portion of your party run smoother, without a lot of waste, purchase plastic shooters in the plasticware aisle of your local Dollar Store. They are the right size for a small taste, and they are about the size of a shot.
Vase. Buy a vase for only a dollar to sit in the middle of the main table for everyone to toss in their bottle caps. If you have any beer caps laying around the house before your party, add them to the vase to kick off the decor. You could also use beer steins you already have for centerpieces!
Party Decor. Your Dollar Store has all the standard party supplies for only a buck. Don't forget to purchase your table cloth, napkins, plasticware, paper plates and any decorations you may want such as party streamers.
What is your favorite craft beer to serve?
Want to host a wine party instead?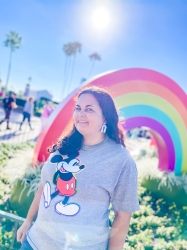 Latest posts by Krystal | Sunny Sweet Days
(see all)