College Snack Ideas and Recipe Hacks
I am a member of the Collective Bias® Social Fabric® Community. This shop has been compensated as part of a social shopper amplification for Collective Bias. #AmazonWishList #AmazonHasIt #CollectiveBias
College feels like a lifetime ago, but it really was only a few short years. I went to college at the University of Central Florida from 2003 – 2007 before heading to the University of South Florida for my Master's. I spent way too long in graduate school, but I can at least say that I finished. No one can take away from me! To celebrate Throwback Thursday, I decided to reminisce on my time when I lived away from home in a small dorm room (and later, a smaller apartment in student housing). While each had its advantages (and major disadvantages!), there was a sense of community and a desire to get creative. From themed movie nights to overnight board game parties (oh yea, we were real cool!), there was an opportunity to get creative and learn how to cook. I never learned how to cook growing up and when I went to college, I had to just figure things out on my own. I didn't have a kitchen freshman year, so easy snacks were a MUST.

We barely had the internet when I went away to college, it was a true luxury! So, we didn't have the option to create easy wish lists on Amazon or share with our friends and family things we were doing every day. My dorm room had a PHONE with a CORD. My cell phone was for emergencies only, and it didn't even allow texts. Can you believe how far we have come? Anyway, now that my cousins are off to college and I know what it's like to not have a kitchen or a meal plan I have a few suggestions for spicing up meals in a hurry. And, not only can I share these ideas with my relatives, but they can tell me what snacks they need or are running low on with Amazon!

There are a ton of easy snack ideas on Amazon including Slim Jim, Swiss Miss, DAVIDS, and Orville. From the internet to your dorm room, here's how to make it happen.

You can share wish lists on Amazon! Since college students always need the essentials, Amazon has made it simple to purchase and send a car package. #AmazonWishList lets you keep a running tally of what is needed, and the list can be shared with others!

Once you receive your snacks, it's easy to make them party perfect!
POPCORN + GARLIC SALT + PARMESAN CHEESE = The most gourmet snack in your dorm.
SLIM JIM + CRACKERS + CHEESE SPREAD = Spread cheese onto a cracker and top with chopped Slim Jim.
SWISS MISS + MILK + ICE + CHOCOLATE SYRUP = Blend until smooth. Top with whipped cream for the coolest milkshake around.
DAVIDS SUNFLOWER SEEDS + APPLE SLICES + PEANUT BUTTER = Remove sunflower seed shells. Slice an apple and top with peanut butter. Sprinkle seeds on top.
Who needs a kitchen when you can transform everyday snacks into celebration-worthy appetizers? I know that freshman version of Krystal would have loved the convenience of this service.

I was so YOUNG. This is one of the first weekends of freshman year. I went to my first college football game and went ALL out. Face paint, noisemakers, my first college tee. It was part of a program to welcome freshman to college, and we were even led onto the field at half time. I remember thinking how COOL that was, but I think we were booed.

I spent way too much time and money eating outside of my dorm, because I didn't think I had the resources available to cook for myself. While I don't regret nights out with college girlfriends, I do wish that Amazon had this service when I was in school! Since it's around now, I'm making sure my friends and family take advantage of it sooner rather than later. College may FEEL like forever, but it's really just a few short years.

And, the graduation tassel will soon make its appearance. You'll send out your graduation invitations, and you will walk across the stage holding onto the most expensive piece of paper ever received.
But, it's all worth it.
Get your care package started today, and don't miss the #AmazonWishList party. I'm sure either you or someone you know could use a college care package before finals roll around!
What are your best snack hacks? Do you use the Amazon wish list feature?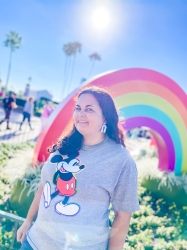 Latest posts by Krystal | Sunny Sweet Days
(see all)