College Dorm Shopping List + Free Printable
I'll never forget the day I moved into my college dorm. I was totally unprepared and overwhelmed by the idea that I was truly "on my own." I had a handwritten checklist of what I needed to bring on my first day, but I still missed MANY things. Sure, you always shop when you arrive to college. However, I actually didn't bring a car to university. I didn't drive my first two years of college, and I had to shop on campus or rely on rides. One item that I didn't want to rely on someone to drive me to get? Feminine products! Some toiletry items are just too important to forget, so I made sure to stock up on essentials before I left home.

If you're sending a woman off to college or if you're packing your own bags to start school, I have compiled a list of a few items that you're going to want to have. Don't delay and wait until you get there. Some of these items are on sale NOW, and it can help you get your dorm decor ready to go now! When you're a woman, there are some items on a dorm shopping list that differ.

We all have particular needs and wants, and we have to deal with our monthly flow. It's not a big deal, but we have to remember it. We have to track it. We have to shop for it. When I started college, I remember panicking about long days in lecture halls and being away from my dorm. I needed specific items that were easy to carry and conceal, and I also wanted to know where the nearest restrooms were. You can never be too prepared! With the new technology applied in Kotex's new pad, women can now be more confident in wearing whatever they want.

Luckily Walgreens has everything you need to get your dorm stocked. Grab U by Kotex CleanWear® by U, Bic Razors, and Eos lip balm right now. I love the minty lip balm I picked up, and I bought matching razors too. Mint is certainly my favorite color!

Don't forget to pick up one of their planners and stationary in the school supply section! I love colorful pencils, pens, and highlights too. Spiral notebooks were my favorite way to take notes in school even though things are all digital nowadays. There is something so calming about writing down notes. I also think it helped me remember the information better.

Don't forget to take Eos lip balm with you to class. I always needed a bottle of water too. Snacks like granola bars helped me get through long days too. I would always pick up a latte in the afternoon for a burst of energy, and I took a small card case with me everywhere that held my keys, U by Kotex CleanWear® by U, and my college ID.
College Dorm Shopping List

Click here to download your very own shopping list!
Planning on moving to college? Don't miss our free printable dorm checklist in our store.
Going to college or know someone that is? Visit our college posts to help get you organized before you go…
Do you have any other college dorm shopping tips? Use this printable next to learn How to Create a Simple Beauty Routine.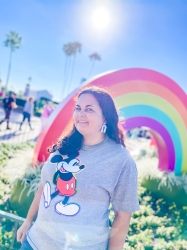 Latest posts by Krystal | Sunny Sweet Days
(see all)