How To Find The Perfect Gift For A Coffee Lover
We all have that one friend or family member who is impossible to shop for. If you're struggling to find the perfect present for the coffee lover in your life, look no further! In this article, we'll give you some great gift ideas that are sure to please even the most discerning coffee drinker. Whether they prefer their java black or with a splash of milk, we've got something for everyone. So sit back, relax, and let us help you take the stress out of holiday shopping!
Their favorite type of coffee bean
When shopping for the coffee lover in your life, think beyond just buying them a regular bag of coffee beans. What set's the perfect cup of coffee apart from the average, can often come down to the bean. Research on the internet or ask around to determine their favorite type of coffee bean – whether it be a light Colombian for its sweet caramel notes or an Ethiopian for its bright and juicy flavor – this will ensure you are giving them something truly special. With many variations ranging from blends to single-source roasts, you won't go wrong with picking out a gift tailored to their individual tastes. And on top of that, you can find Maui Coffee on sale at The Coffee Store, so you get the gift at a great price! Consider doing a bit of research and surprise them with a bag of their favorite coffee beans.
A nice mug
A nice mug is one of the perfect gifts to give your favorite coffee lover. Not only does it look attractive sitting on their kitchen counter or workplace desk, but it can also be personalized with a favorite photo or special message just for them. A nice mug will keep their favorite drink hot for hours at a time, making it an essential vessel for waking up each morning and sipping throughout the day. It's also friendly to the environment since you won't have to keep disposing of single-use cups. Whether you choose one that's ceramic, glass, or stainless steel — or something entirely different — this is sure to bring joy to your special coffee lover.
A good quality coffee maker
Quality machines make all the difference when it comes to crafting delicious, sophisticated coffee drinks. With certain models available at reasonable prices, it's easy to find one that will bring joy to your coffee-loving friend! Features like pause and serve settings, filter size capabilities, and programmable settings offer convenience in the brewing process so they can get the ideal flavor every time they pour a cup. Whether they prefer espresso or a richer brew of coffee, there is something out there capable of giving them an unparalleled cup each time.
Buy some coffee accessories
A perfect way to show your appreciation and admiration is to invest in some well-crafted coffee accessories that will boost their daily joy while they enjoy their beloved beverage. From French presses to mug warmers to bean grinders and thermal tumblers, the possibilities are endless when it comes to finding the right items for them. While these gifts may not seem extravagant, they allow coffee lovers to further explore their passion and make every sip even more satisfying than before.
Cold capsules
Cold capsules provide a convenient way to enjoy delicious cold-brew coffee with just the push of a button. Perfect for people who are always on the go and still want to savor their favorite brew, this is an innovative option that's sure to please any diehard coffee enthusiast. Plus, it's simple enough to use even for beginner baristas, making it an excellent choice regardless of skill level!
Pour-over gear
Finally, pour-over gear will come in handy for those who relish the ritual of making their own coffee. The pour-over process creates a mellow, smooth cup that cannot be replicated with other brewing methods. This particular type of brewing requires some special equipment such as filtered paper holders, carafes, and kettles – all of which can be found online or at local specialty stores. Investing in one of these kits will open up a whole new world for the coffee connoisseur in your life.
No matter what you choose, show them how much they're appreciated by gifting something designed to make their daily cup that much more enjoyable. From beans and mugs to pour-over gear and cold capsules, there are plenty of options to please any coffee lover. With a little research and some thoughtfulness, you can find the perfect gift for their unique taste buds! Happy gifting!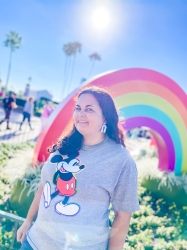 Latest posts by Krystal | Sunny Sweet Days
(see all)