Cocktails and Ceviche at RumFish on St Pete Beach, Florida
Sometimes I go to local restaurants and have such an amazing time I want to share it with you! It would be impossible for me to track all of the places that I go to since lately I've been out and about a lot, however, RumFish blew me away with their food options, cocktails, and proximity to the beach.
While this wasn't my first trip out to St. Pete Beach, it was my first experience at both RumFish and the Tradewinds resort area. We were treated to a "stay cool for summer" menu which included Peruvian Ceviche, Chilled Black Peppercorn Crusted Tuna, and Cold Water Oysters with Ginger Mignonette.
But first… let's order a drink!
It was a tough choice, but I went for the Strawberry Mojito Martini followed by the Raspberry Peach Margarita. I selected both drinks since they had flavors I typically don't see on a menu. I love a mojito, but a mojito with vodka? Sign me up! As for the peach margarita, I was sold when I saw Grand Marnier.
Both cocktails complemented the appetizers, and I was excited to learn more about RumFish Grill. What I did notice almost immediately was how you can eat, drink, shop, and explore the beach from one location. The main event inside the restaurant is a 33,500 gallon aquarium that is center stage inside the dining room. I'm already planning a return visit so that I can show this to my husband and son.
The aquarium was feated on the Animal Planet show "Tanked," so you may have already seen it on the big screen. To add to your unique visit to RumFish, you can opt to "swim with the fishes." This excursion offers swimmers, ages 8 years old and up, the chance to experience what it's like to snorkel with over 30 species of fish.
After a quick peek at the aquarium, we got to know Chef Aaron Schweitzer who explained our menu for the day and where the ingredients were sourced.
Ceviche is one of my favorites, but oysters were new to me. I usually skip them since I'm not sure how to eat them or what to enjoy them with (do I put them on a cracker? Do I want them raw?), but I learned from other RumFish guests their preferences and gave it a try.
From now on, I will be sure to enjoy them on a cracker with cocktail sauce. Yes, please!
It's hard to pick a favorite dish from our tasting with RumFish. There were too many options that were packed with unique flavors that made me want to come again so I could try more items. And, like I mentioned above, my husband and son would totally love the aquarium.
After lunch, we hit the beach bar for a fruity cocktail and a beach view.
I appreciate St. Pete Beach for its beautiful sand and warm water, and it feels truly family-oriented. While there are bars and restaurants to enjoy the nightlife scene, I also like how I can bring my son to enjoy the fun too.
RumFish is located at 6000 Gulf Boulevard in St. Pete Beach, FL.
When was the last time you planned a trip to St. Pete Beach? If you need recommendations for your Florida trip, let me know! I'm a native Floridian and have lived in the Tampa Bay area practically my entire life.
Looking for brunch? Try Brunch at Hard Rock Tampa's Fresh Harvest.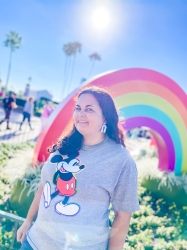 Latest posts by Krystal | Sunny Sweet Days
(see all)