Quarterly Cleaning Printables
There's more to the new year than just redefining yourself. From resolutions for weight loss or career goals, new year's goals are all over the place right now. However, there's room to improve ALL areas of your life! One big goal that we have for the new year involves keeping our home clean and organized. It can be difficult when you're chasing a toddler around and have a TON of stuff to declutter, but there are simple things that you can do to reach your home organization and cleaning goals!

The first thing to do is stock up on the tools that you need for your cleans. For us, we like to stop at Target and pick up Clorox Micro-Scrubbers available at Target (PS: Save 10% by using the Target Cartwheel app!). These wipes not only wipe out germs, dirt, and grease, but they have a texture that can scour away stubborn messes that other wipes leave behind! Now you can clean and disinfect in one simple step!
Kills 99.9% of germs that can live on surfaces for up to 48 hours
Kills 99.9% of Viruses* and Bacteria
Kills Staph†, E.Coli‡, Salmonella§, Strep**
*Human Coronavirus, Influenza A2 Virus; †Staphylococcus aureus; ‡Escherichia coli O157:H7; §Salmonella enterica; **Streptococcus pyogenes
The wipe is thicker so it's more absorbent to handle touch messes. It's versatile so that you can use it on floors, countertops, appliances, and other surfaces. Add it to your quarterly cleaning to do list!
Quarterly Cleaning Tips

To keep your home under control, try to clean quarterly. Use a simple schedule with a few main tasks to make things manageable. Pick one room each quarter to thoroughly clean! Not only do I try to clean these areas quarterly, but I try to spruce things up with refreshed linens or new area rugs.

Here's a blank copy for your own notes!
Want to spruce up your home in a hurry? Pick a room and try these ideas to add new pieces or home decor!
Don't forget Clorox for all your cleaning needs this new year!
What are your favorite cleaning tips?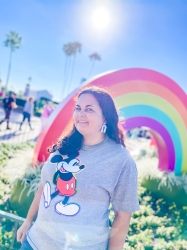 Latest posts by Krystal | Sunny Sweet Days
(see all)