My Spring Cleaning Secret: Clean With Vinegar!
Thank you BISSELL for sponsoring today's post on spring cleaning!
Spring cleaning is in full swing here at our house. My husband spent the past weekend getting our home ready for spring and summer both inside and out. We also got to try a few new "toys" for the season! Yes, now that we are adults our toys come in the forms of essential oils and steam cleaners. I made a few new cleaning solutions with my oils, and my husband got our carpets ready to go with our new BISSELL Upright Deep Cleaning Machine with BISSELL Professional Deep Cleaning with Febreze® Formula. Everything from the air to the floors are clean and smelling fresh!

I also experimented a bit with vinegar. It's definitely my spring cleaning secret! You can use vinegar from your salads to your ceiling fans, and I'm going to tell you how. Once you pair these vinegar cleaning tips with the power of the professional deep cleaning from BISSELL, your home will look and feel MUCH cleaner! I guarantee it! Keep reading for a giveaway and a few ways to get your home ready to go!
Vinegar Cleaning Tips
1. Clean the dust off your blinds. Did you know that you can use vinegar to remove dust and grim from your blinds?
2. Get rid of strong scents in your home. Vinegar might not smell the BEST, but it has the power to minimize all kinds of bad scents in your home. The smell of vinegar will eventually go away, but that musty ceiling fan or wet dog smell won't! Just create a solution with 1 part vinegar, 1 part water, and a few drops of lemon essential oil to get started!
3. Get your shine on! You can use vinegar to shine all kinds of metals including copper, silver, and brass.
4. Remove gunk. Vinegar can help remove gunk from water bottles, shampoo bottles, or any other kind of plastic you might have. Sometimes items you buy can have a sticky residue that just WON'T go away. Vinegar can help!
5. Use vinegar as a cleaner. Vinegar can be quite powerful when you try. Give it a go as a cleaner to wipe down your microwave, oven, and your refrigerator. You can also try wiping down your cabinets, tables, chairs, and walls!
6. Carpet.  Carpet cleaners come and go, but I'm absolutely impressed with the power of BISSELL Professional Deep Cleaning with Febreze® Formula! Not only did we use it to steam clean my carpets professionally on a shoestring budget, but we also got creative and used the attachments to clean off the couch. Can you imagine what kind of dirt and grime two dogs and a toddler has left behind? From crayon marks to dog hair, BISSELL helped us out!

How do you keep up with that new carpet look while protecting carpets from spilled wine, pet stains and kids who forget to take their shoes off? Vacuuming alone isn't enough. That's where deep cleaning with Scotchgard™ Protector comes in. Get professional carpet cleaning results and the fresh scent of Febreze® Spring & Renewal™ with the best upright carpet cleaning formula. BISSELL Professional Carpet Deep Cleaning with Febreze™ is a 3-in-1 formula that removes deep-down dirt and odors, freshens with Febreze®, and contains Scotchgard™ protection to keep your carpets protected from future stains.
Vinegar can also help if you're in a pinch!
7. Lather on leather. Vinegar can help bring leather back to its original shine!
8. Try mixing baking soda and vinegar. If you need a deep clean, mix vinegar and baking soda together!
9. Try vinegar on your laundry and dishes. Get your dishes and your laundry as clean as humanly possible with vinegar! Add a bit of vinegar to the pre-rinse cycle for your dishwasher. You can also add a bit to your laundry cycle!
10. Vinegar can remove build up. If you have any sort of product build up around your sink, use vinegar to remove it!
Need other ideas for cleaning? What's your spring cleaning secret weapon? Try these Spring Cleaning Tips: 10 Things You Might Miss!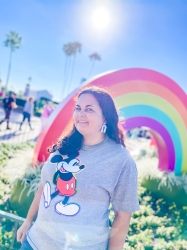 Latest posts by Krystal | Sunny Sweet Days
(see all)