7 Ways You Can Use Your Christmas Lights All Year Long
Holiday decor can be an expensive investment when you only display it for a few weeks. However, some Christmas decorations can be used year-round! Lights add a bit of sparkle to your interior and exterior decor, and there are several ways that you can brighten up your space without taking a lot of extra time or money.
Your Front Porch
Greet your guests at your home entrance with lights surrounding your front door. Whether you string them along your entryway or create a wall of light against your screened-in space, these lights will create a brighter walkway to your home. You can also hang a wreath on your front porch and swap it out seasonally with new, relevant decor to match your extra lighting.
Your Dining Room
If you have a rectangular table, host a dinner party with style. Use a table runner topped with a colorful centerpiece to set the table. You can then use a string of Christmas lights for added color on your table.
If you have a China cabinet, you can add extra light to dark shelves with a simple strand of lights.
Your Windows
Hang a strand of lights indoors above your curtains for a creative lighting solution. You could also do this in a child's bedroom to use as a night-light or as a reading light.
Your Backyard
This is our favorite way to add light outdoors! You could wrap lights around tree trunks or string them along your fences. If you have a pool, you could string lights above the water for an amazing reflection effect — but make sure that the lights can't come into contact with the water.
You can also hang lights above sidewalks or small passageways outdoors. Whether you need more light to see how to reach your shed or greenhouse, lights can serve a dual — and a practical — purpose.
Your Bedroom
Add a bit of romance to your boudoir with string lights above your bed. Or, if you have a four-poster bed, you can wrap lights around each post.
You can also string lights through your bookcase, around your bathroom mirror, or even in your walk-in closet for added light. The key is to have a nearby outlet unless you are using battery-operated lights.
Your Fireplace
When winter is over, turn your fireplace into a relaxing home decor piece. Try adding large hurricane candles, brass figurines, and lights strung inside for added warmth. There are lots of different lighting options on Christmas Lights Etc to suit your every lighting need.
Your Glassware
Fill large vases or bowls with lights for a creative touch throughout your home, or create a DIY wine bottle lantern: Simply fill a wine bottle with Christmas lights, and carefully drill a hole through the glass. You can then plug in your new lighted display. One of my friends gifted me a wine bottle with Christmas lights inside, and it has been a cute statement piece on my bar ever since!
Home decor doesn't have to take a lot of time or money to create an inviting atmosphere. Seasonal home decor can be useful even after the holidays are over. Use these simple ideas to add color and style to your space!
Christmas Decor Guide
Score your free holiday decor guide.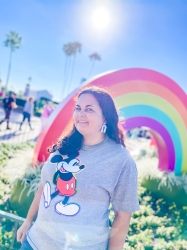 Latest posts by Krystal | Sunny Sweet Days
(see all)