Easy Meal Ideas: Recipes With Chicken Tenders
Whenever we have a busy weeknight, we look for convenience meals that can be prepared in a hurry. Unfortunately, some of those "easy" meals are not exactly as wholesome as they could be. I've been researching the ingredients of some of our favorite meals to find options that can be fast AND better for us. With these recipes with chicken tenders, you can have meal finished in a hurry!
Recipes With Chicken Tenders
I regularly shop Target (and especially their sales paired with coupons and Cartwheel!), and I find affordable quick meals in the freezer section. I was looking for easy chicken options that had wholesome ingredients. For my meal planning, I like to get chicken and simple appetizers so we can enjoy our own Sunday Funday tailgate parties or easy snacks. Grab a bag of chicken tenders or chicken strips and get cooking! Both chicken strips and the chicken wings are easy to prepare and can be cooked up fast. Dinner doesn't look the same when you add in easy solutions to busy nights.
If you need more help coming up with meal plans, Carnivore meal ideas can help you create dinner in a hurry!
Easy Chicken Tender Meal Ideas
If you need fast and fresh meal ideas, try picking up a bag of crispy chicken strips. Use one of these ideas to get dinner on the table in a hurry!
Chicken strip salad with lettuce, tomatoes, shredded cheese, bacon bits, and your favorite salad dressing.
Alfredo pasta with cooked fettuccine, diced chicken strips, and Alfredo sauce.
Chicken strip sandwich with toasted bread, a slice of cheese, tomato, bacon, and mayonnaise.
Baked nachos with diced chicken strips atop tortilla chips, shredded cheese, sour cream, and your favorite salsa.
Chicken gyros with chicken strips wrapped in a pita and your favorite toppings.
Barbeque chicken wrap with a chicken strip wrapped in a tortilla with bbq sauce, tomatoes, cheese, and lettuce.
Simple sliders with a chicken strip chopped into a smaller piece, lettuce, tomato, ketchup, and cheese.
Chicken tender sandwich with avocado, soda and slaw
Chicken strip rice bowl with a bowl of prepared rice, chicken strips, and your favorite vegetables like zucchini or squash. Serve with sriracha!
Fast chicken tacos with tortillas or crispy taco shells, chopped chicken strips, sour cream, cilantro, tomatoes, and lettuce.
Chicken parmesan sandwiches with chicken strips served on a hoagie roll with mozzarella cheese and marinara sauce.
Try adding these meal ideas to your weekly menu and try to find your family's favorites. You will be surprised at how versatile these chicken strips can be. Plus, they can be prepared quickly in the oven! The crispy texture makes it a fun ingredient for your favorite recipes. We love them because they remind us of our favorite restaurant entrees without the high price or unhealthy ingredients! They're an amazing swap for our family's cooking.
What are your favorite easy meal ideas? 
Fast Chicken Recipes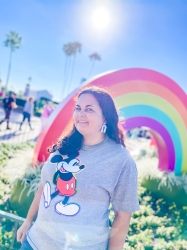 Latest posts by Krystal | Sunny Sweet Days
(see all)