Captain Marvel could bring 90s music to Marvel Universe #CaptainMarvel
If you've seen Infinity War, you're counting down the DAYS until you can get a glimpse of WHAT HAPPENS NEXT. So, what role does Captain Marvel play in all of this? Marvel Studios' 
CAPTAIN

 

MARVEL

 opens in theatres everywhere on 

March 8, 2019

!
Marvel Studios has begun principal photography on its next addition to the cinematic universe, Captain Marvel, and I can't help but wonder what songs they are going to pick for the soundtrack. Marvel Studios has always had a way of picking just the right song for the right moment, especially in films like the Guardians of the Galaxy series.
The story of Captain Carol Danvers' transition into one of the strongest heroes in the galaxy will be set in the mid-1990s. I might be biased but I think, musically, this is one of the most underrated decades in American history. We had it all back then. The death spiral cheesiness of the hair band era which gave way to gritty metal and grunge. The rebirth of punk ethos and the violent happiness of ska. The mainstreaming of hip-hop and the emergence of techno. The musical possibilities are endless.
Just picture it. Captain Marvel spin kicking her way through a horde of Skrull warriors to the tune of Nirvana's Smells Like Teen Spirit. Space battles set to Reel Big Fish's Take on Me cover. How about cruising in a space freighter with Dr. Dre's Chronic thumps over the loudspeakers? It could be glorious.
Here are some more songs from our favorite decade of music that we'd like to see when Captain Marvel opens in theaters everywhere on March 8, 2019:
Smash Mouth – "Walking on the Sun"

Smash Mouth and Disney have a long history together ever since they became "that band that did that Shrek song." It makes sense to have this staple of 1990's radio which already has a cosmic theme show up somewhere. It would be an awesome pick for an intro song.
No Doubt – "Just a Girl"
Speaking of ska, Gwen Stefanie was the queen of third wave ska in the 90s. What better way to celebrate the strong female lead of the film with a band with a strong female lead that encapsulated one of the best genres of the decade.
Cowboy Mouth – "Jenny Says"
The film's producers have revealed that the story will be set in New Orleans and no band exemplified the Louisiana sound of the 1990s like Cowboy Mouth (apparently every band had to have a mouth in their name).
Goldfinger – "Superman"
I'll be honest, I'm including this one just because it would be a stroke of genius trolling of rival DC Comics by Marvel.
Toad the Wet Sprocket – "When Will We Fall Down"
Marvel always likes to throw in some strange and obscure bands that had a minor hit on every soundtrack. These guys fit the bill and this song would work well as a mood setter in the second act.
The Fugees – "Ready or Not"
The 90s saw a lot of female hip-hop artists rise to prominence like Missy Elliot and Queen Latifah but Lauryn Hill could sing circles around all of them.
The Flys – "Got You Where I Want You"
Another one-hit wonder from the 90s that would fit perfectly into that inevitable romantic interlude.
Korn – "Freak on a Leash"
Nu-Metal was perhaps a regrettable side effect of the 90s music scene. Although it would be a disservice to the decade to not at least give it a nod.
Britney Spears – "Hit Me One More Time"
They could stick a Britney song in the climactic final battle and I probably wouldn't hold it against them.
What songs do you think should be in Captain Marvel that would highlight the sounds of the 1990s?
Set for release in the United States on March 8, 2019, Marvel Studios' "Captain Marvel" is directed by the writing/directing team of Anna Boden and Ryan Fleck, whose credits include "Mississippi Grind" and "Half Nelson." An all-star collective of accomplished writers penned the screenplay, including Meg LeFauve ("Inside Out," "The Good Dinosaur"),  Nicole Perlman (upcoming "First Man," Marvel Studios' "Guardians of the Galaxy"), Geneva Robertson-Dworet ("Tomb Raider," upcoming "Sherlock Holmes 3"), Liz Flahive & Carly Mensch ("Glow"), and Anna Boden & Ryan Fleck.

The film stars Academy Award® winner Brie Larson ("Room," "Kong: Skull Island"), Samuel L. Jackson (Marvel Studios' "Avengers: Age of Ultron," "The Hateful Eight"), Ben Mendelsohn ("Rogue One: A Star Wars Story," "Ready Player One"), Djimon Hounsou("Blood Diamond," Marvel Studios' "Guardians of the Galaxy"), Lee Pace ("The Book of Henry," Marvel Studios' "Guardians of the Galaxy"), Lashana Lynch ("Brotherhood," "Fast Girls"), Gemma Chan ("Humans," "Fantastic Beasts and Where to Find Them"), Algenis Perez Soto ("Sambá," "Sugar"), Rune Temte ("Eddie The Eagle," "The Last Kingdom"), McKenna Grace ("I, Tonya," "Gifted"), with Clark Gregg ("Live by Night," "Marvel's The Avengers"), and Jude Law ("Spy," "The Grand Budapest Hotel").

The story follows Carol Danvers as she becomes one of the universe's most powerful heroes when Earth is caught in the middle of a galactic war between two alien races.  Set in the 1990s, "Captain Marvel" is an all-new adventure from a previously unseen period in the history of the Marvel Cinematic Universe.

Kevin Feige is the producer of Marvel Studios' "Captain Marvel." Louis D'Esposito, Victoria Alonso, Jonathan Schwartz, Patty Whitcher and Stan Lee are executive producers, with Lars Winther serving as co-producer/first assistant director and David Grant serving as co-producer.

Directors Anna Boden and Ryan Fleck's creative team includes director of photography Ben Davis ("Three Billboards Outside Ebbing Missouri," Marvel Studios' "Doctor Strange,"), Oscar®- nominated production designer Andy Nicholson ("Gravity," "Jurassic World: Fallen Kingdom"), costume designer Sanja Hays ("The Fate of the Furious," "Star Trek: Beyond"), editors Elliot Graham ("Steve Jobs," "Molly's Game,") and Debbie Berman (Marvel Studios' "Black Panther," "Spider-Man: Homecoming"), two-time Oscar nominee, visual effects supervisor Christopher Townsend (Marvel Studios' "Avengers: Age of Ultron" and "Guardians of the Galaxy Vol. 2"), stunt coordinator Jim Churchman (Marvel Studios' "Doctor Strange" and "Ant-Man" ) and six-time Oscar nominee, special effects supervisor Dan Sudick (Marvel Studios' "Avengers: Infinity War" and "Black Panther").

Based on the Marvel comic character first appearing in 1968, "Captain Marvel" continues the lineage of epic big-screen adventures chronicled in "Iron Man," "The Incredible Hulk," "Iron Man 2," "Thor," "Captain America: The First Avenger," "Marvel's The Avengers," "Iron Man 3," "Thor: The Dark World," "Captain America: The Winter Soldier," "Guardians of the Galaxy," "Avengers: Age of Ultron," "Ant-Man,"  "Captain America: Civil War," "Doctor Strange," "Guardians of the Galaxy Vol. 2," "Spider-Man: Homecoming," "Thor: Ragnarok" and, most recently, "Black Panther."
Love Star Wars? Our Thoughts on Star Wars: The Last Jedi (and our favorite Last Jedi LEGOs).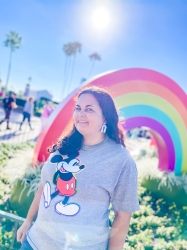 Latest posts by Krystal | Sunny Sweet Days
(see all)