7 Frugal Camping Essentials
Each and every week, I'll be sharing easy ways to maximize your dollar at your local dollar store. From five dollar meal ideas to closet organization, you can find a LOT for just a buck. This marks the beginning of my fifth month of weekly articles about saving money. Don't forget to catch up in the dollar tree archives.

Do you love to camp? Many people do, but I have to admit that I've never actually gone! It's on the bucket list for sure, and Florida has SO many locations that are perfect for camping. Whether it's a beach site campground or something in the national parks, I hope to pitch big tents sometime this year! Anyway, if you DO camp and are looking to stock up on a budget, stop by your local dollar store.  There are tons of items for your next camping trip to help make it an easy and enjoyable one. Take a look below at a few camping essentials you can find for a buck!

1. Lighters. The long necked lighters that Dollar Tree sells are perfect for lighting your camp fires, citronella candles, and lanterns. They are easy to light and easy to store which makes them a perfect camping necessity.
2. Plastic containers. Snag some plastic totes with lids to keep your camping supplies safe and dry. They come in a variety of sizes and colors, and are great for storing food, matches, paper products, and even toiletries. With these plastic containers, you will never need to worry about items getting wet or intruded by critters.
3. Citronella candles. Citronella candles are perfect for keeping mosquitoes and other biting bugs away. Dollar Tree sells citronella candles in a generous size, perfect for using at your next camp out. Grab a few so you have them on hand for meal times or just evenings around the camp fire.

4. S'mores. Gather all of your s'mores ingredients at your local dollar store! You can find marshmallows, graham crackers, and of course chocolate bars. Get the ingredients you need at a great price so you can enjoy s'mores around the fire all summer long.
5. Water bottles. Dollar Tree has a huge variety of water bottles, canteens, and other beverage holders perfect for camping. Don't forget to get some of the powder drink mix packets while you are there if you want to add a little flavor to your water. This is a fun and frugal way to stay hydrated.
6. Trail mix. Get all the supplies you need to make your own trail mix. Find nuts, seeds, dried fruit and chocolate candies perfect for keeping you fueled. Dollar Tree has a huge variety of ingredients perfect for mixing up a batch of trail mix that everyone is sure to love.
7. Solar lights. Light up your campsite with the solar lights that Dollar Tree offers. They work great when set up around your campsite so you can easily find what you need. You can even use them in your tent or camper for extra lighting. We actually have some of these cheap lights on our patio and dock, and surprisingly, they work!
So, who is ready to go camping? Give these 7 must have supplies your consideration when you are preparing for your next getaway!
Have you ever gone camping?
Camping Tips
What is your summer must-have?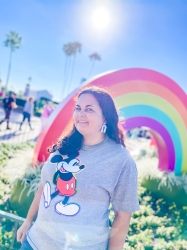 Latest posts by Krystal | Sunny Sweet Days
(see all)