6 Design Tips to Follow When Buying New Furniture
A well-designed room is not only aesthetically pleasing, but it's also functional. The furniture you choose should suit your needs and complement your existing décor. It can be challenging to know where to start with so many options available. Here are six design tips to keep in mind when shopping for new furniture:
Consider the Scale of the Piece.
When shopping for new furniture, keeping the piece's scale in mind is essential. That means considering the size and how it will fit into your space. For instance, a large sofa might look impressive in a showroom, but it could quickly overwhelm a small living room.
Similarly, a dining table that's too small will leave guests feeling cramped during dinner parties. So before you buy, take a tape measure and make sure the furniture will fit your room and your lifestyle. Otherwise, you might end up with a beautiful but impractical piece.
Consider the Fabric or Material.
When choosing new furniture, it's essential to consider the fabric or material. Certain fabrics may be better suited for you than others, depending on your lifestyle and needs. For example, if you have pets or small children, you might want to steer clear of delicate materials like silk or linen. Instead, opt for something more durable, like leather or microfiber.
If you're looking for furniture that's easy to clean, look for pieces that are made from stain-resistant materials. If you are looking for weatherproof furniture, opt for designs made from quality Rattan materials. These types of furniture can withstand anything from frost, snow, rain, and UV rays. And if you're worried about fading, choose furniture that's been treated with a UV-resistant finish. By taking the time to consider the fabric or material, you can help ensure that your new furniture will be a lasting addition to your home.
Choose a Style That Reflects Your Taste.
When choosing new furniture, it's crucial to find a style that reflects your taste. After all, you'll be looking at this furniture every day, and you want it to be something that you enjoy looking at. Fortunately, there are a wide variety of styles to choose from, so you should be able to find something that suits your taste.
One tip is to browse through magazines and online catalogs to get an idea of the different styles available. Once you've narrowed down your choices, you can start shopping for specific pieces. With a little effort, you're sure to find furniture that you'll love for years to come.
Think About the Function of the Piece.
When buying new furniture, it's crucial to think about the piece's function. Is it for decoration or practical use? Durability is critical if you're looking for something you will use a lot. Look for furniture made from sturdy materials that can withstand heavy use. If you're looking for a piece to show off your style, look for something unique and eye-catching.
A statement piece of furniture can make a room pop. But no matter what your design goals are, always keep in mind how you will be using the furniture. That way, you can find the perfect piece to suit your needs.
Pay attention to the details.
Choosing the first thing you see with many available options can be tempting. However, if you take the time to consider all of your options, you are more likely to find pieces that you love.
One detail that is often overlooked is the hardware. This includes things like handles and knobs. When choosing new furniture, make sure to pay attention to the hardware. It can make a difference in the look of the piece. For example, opt for hardware with clean lines if you want a modern look. If you want something with more character, look for pieces with unique hardware.
Another detail to consider is the finish. The finish of your furniture can affect both its appearance and its durability. For example, a high-gloss finish will give your furniture a shiny look, but it is also more prone to scratches. A matte finish will have a more muted look, but it will be more resistant to scratches.
High-quality furniture should feature well-crafted details such as dovetail joints and hand-carved accents.
Don't Forget About the Warranty. 
When buying new furniture, it's essential to consider the warranty. Warranties can vary depending on the type of furniture and the manufacturer, but they typically cover defects in materials or artistry. In some cases, warranties may also cover damage caused by normal wear and tear. Before making a purchase, read the fine print to know what is not covered. Additionally, it's good to keep your receipts and other documentation if you need to file a claim.
As you can see, there are a few design tips you should keep in mind when furniture shopping. Ultimately, it's important to choose pieces that fit your unique style and make your space feel at home. With these guidelines in mind, you'll be sure to find pieces you love that also work well with your existing décor.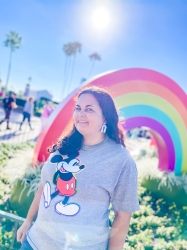 Latest posts by Krystal | Sunny Sweet Days
(see all)