Is Bullet Journaling For You?

We are entirely too busy. Or, at least, we pretend to be. We are responsible for keeping track of lots of information including appointments, due dates, work meetings, and family obligations. Now that digital planning is an option, we seem to have appointments on our Google calendars but forgotten in our daily paper planner. Or, we track something on a to do list on our fridge, but it never seems to make it on our calendar. I'm totally guilty of planning in one notebook and then forgetting to reference it again. This is why bullet journaling is SO appealing to me. This is a particular system of organizing that is unique, completely customizable, and it is very helpful for someone like me who thrives on lists.
What is bullet journaling?
You Are To Do List Obsessed
If you're a fan of to-do lists and have one sitting at your desk or your kitchen counter, then a bullet journal may work well for you. it is basically a large ongoing to do list that you can use to keep track of appointments, book lists, groceries, and bills. It's all in ONE place, and with a little creativity it can be very inspiring!

You Love Pen and Paper
Our electronic calendars can be helpful, but some people learn and remember better with pen and paper. If you need an easy to deal with system that requires NO batteries or wi-fi, this is a good fit for you. Even you think Google Calendar can handle your life, try bullet journaling as a way to feel inspired and productive. There is something motivating about checking things off your list with a pretty pen!
You Need a Creative Outlet
You can't complain about being too busy for a hobby if you're into planning! You can use your journal as a place to sketch, create, doodle, use washi tape, and combine different stickers to decorate. As you plan your day, you can get creative as you make your daily pages.
Of course, decorating is optional! Do what you love.

You Need to Brain Dump
I basically need a place to get all of the tasks and projects that I want to do out of my head. I need to just brain dump and write everything down that I can in fifteen minutes each night before bed.
It helps with stress relief too. I no longer am trying to remember everything since I know I wrote it down in one place.

If You Are On the Go
Bullet journaling is easy to keep up with since it's essentially just a notebook and a pen. You can sit down anywhere at any time to plan, check your progress, or add a new to do list. You can pick a journal that fits inside your bag so you never have to worry about lugging around a hefty planner.
And, isn't it nice to unplug every so often?
So, is bullet journaling for you?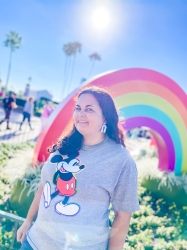 Latest posts by Krystal | Sunny Sweet Days
(see all)