Brownie Ice Cream Sundaes
This post is sponsored by San Bernardo Ice Cream, but all thoughts and opinions are my own.
Feelin' hot, hot, hot! The story of my life here in Florida is summer days almost all year-round, even though some of you are starting to get the cooler temperatures now that summer is over! San Bernardo is locally based in Florida; all the more reason SB ice cream is essential to have in my freezer! I was so excited to learn about San Bernardo Ice Cream, and we had the chance to sample some of their sweet treats that arrived directly on our doorstep, cold, creamy, and ready to be spooned. The flavors were imaginative and unique, and each pint made us want more! We wanted to have some fun with the ice creams, so we spent some time making our own warm brownie sundaes.
Make Your Ice Cream Fun
There's no boring chocolate or vanilla flavors here. Instead, San Bernardo has unique flavors like New York Cheesecake, Quadruple Chocolate, and Sea Salt Caramel Truffle. YUM! The ice cream contains 20% Less Sugar and Fat, is rBST Free, and made with only All-Natural ingredients. Made in the USA, you can find all the ingredients right on each pint. This makes San Bernardo ice cream stand out among other premium brands as you can shamelessly indulge in deliciousness and not have that guilt cloud hovering over you once you get a sweet tooth! The New York Cheesecake premium ice cream flavor (along with the many other ice cream flavors) offers no artificial colors or flavors and no high fructose corn syrup. That is important to me when I'm adding new groceries to my home.
San Bernardo can be purchased online, plus with my special discount code, "EverybodySpoons5" you can get 6 FREE giant brownies and cookies (3 of each) with any pint purchase (For a Limited Time Only)! Don't miss out on having this one-of-a-kind ice cream in your freezer!
To add a dose of whimsy and deliciousness to your parties, break out the brownies. It is so rare that we bake around here. I'm trying to get better about it. We prepared brownies from a mix and topped with San Bernardo flavors.
Cheesecake Sundae
Start with the San Bernardo New York Cheesecake flavor. You can use a boxed mix to save time on the brownies! Prepare according to package instructions. Once out of the oven, carefully cut and remove brownies from pan. Top with this New York Cheesecake ice cream. Add your favorite sprinkles, chocolate shell, and enjoy! This creamy scoop of ice cream truly adds that special something to the brownie.
Consider creating an ice cream buffet bar with all your favorite toppings. Let guests serve themselves and add ice cream, sprinkles, and more. The San Bernardo premium ice cream is blended with fine chocolate, fresh fruit and more – making cherries, banana slices, and other fresh fruit like strawberries, perfect for a unique spin to your sundae. I like to keep it simple with ice cream and chocolate. But, with these flavors, you can't go wrong with any combination! In fact, these flavors are divine on their own.
If you want to shop and find your own flavor, visit the San Bernardo website! The cheesecake flavor I'm highlighting is part of their Italian flavor collection- Italian Escapes®. They have flavors such as: Italian Biscotti, Cannoli, Tiramisu, and many more! You can't go wrong with bringing your favorite Italian flavors to your freezer for a frozen treat.
New to San Bernardo Ice Cream? I was actually super impressed that they started in Miami in the 1950s and 60s! They were a local ice cream scoop shop near Flagler and 12th Avenue. How fun, right? They may have closed their Miami shop, but their flavors grew. They expanded to include other options at their South Florida facility.
San Bernardo Ice Cream, frozen desserts and specialty products are currently served on more than 75% of cruise ships in the world, along with an ever-growing international network of food service and ice cream distributors. San Bernardo is the best ice cream for all festivities! Which flavor would you like to try first? You can't go wrong with any of their flavor combinations! You can purchase them online on the San Bernardo website. Easy!
Don't forget to use my special discount code, "EverybodySpoons5".
Ice Cream Recipes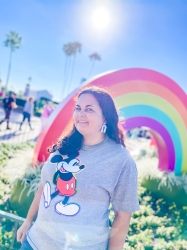 Latest posts by Krystal | Sunny Sweet Days
(see all)