How to Save Money on Groceries: Brandless Review
Brandless is an online store that partners directly with the manufactures and sells direct to customers to keep costs low. With most items being only $3, we're talking seriously low! The products are made with the safest ingredients on the market, so you don't have to worry about the health and well being of your family. This was why I was drawn to them to begin with…I was looking for a "cleaner" option for household supplies. When I first started ordering, they only had a few options. Now, they have SO much to choose from including pantry staples, cleaning supplies, cooking tools like spatulas and tongs, and even vitamins and dog treats.
Brandless Review
This isn't an ad (I wish, I love them so much!), so all of my opinions are truly my own. These are my favorite products and the ones that I use most frequently.
Brandless Food Shopping List
There isn't much I haven't tried. I have been a fan of most everything except the tortilla chips (I am not sure why, but I just don't like them compared to other brands).
My Must Buys: Olive oil (the original olive oil comes in a dark glass bottle!), the olive oil spray, peanut butter ($3 for natural, great deal!), snacks all day (popcorn, chips, trail mix), the taco shells, dessert mixes like the brownie mix, and the chocolate chip cookie thins. Even better, some of the snacks and food items are $1.50 which is an awesome deal since they are shipped to your door. I love that they have a variety of gluten-free options too! I tried the hazelnut spread for the first time, and we enjoyed it for $4. Brandless does mention that the palm oil is responsibly sourced, so I appreciate their disclosure!
[show_shopthepost_widget id="3591941″]
Brandless Home
I regularly buy the dish soap, cleaning wipes, and a variety of the $3 cleaning supplies below. I am not the best at staying on top of the cleaning or stocking up on supplies, so I like that I am able to spend a few bucks to get everything that I need to clean. While I am not an expert at natural cleaning supplies, I do take comfort in knowing that these are "better" than other mainstream brands. I still am researching myself what items are best for my family, but I do like these for now.

[show_shopthepost_widget id="3591945″]
Brandless Health and Beauty
I have been taking the women's multivitamins (they are gummies!) for a few weeks now. They are $9. They also have kids' vitamins too!
As for beauty products, I've gone through multiple tubes of their toothpaste (it is fluoride-free). I don't particularly care for the flavor of the mouthwash, but for a few bucks, it's not a bad buy. I also have used the shave gel for a while now and I recommend it. I have the makeup wipes on my to buy list along with the body wash, rose water, and the deodorant. It's rare to find an aluminum deodorant for this price ($4!), so I am going to give it a shot.
[show_shopthepost_widget id="3591942″]
Brandless Pet Items
The Freeze Dried Chicken Breast Pieces were a hit in my house,
We have used dog shampoo, treats, and even vitamins. While I am not sure if the vitamins are working on my dog just yet, it makes me feel better that I am trying. They have daily multivitamins for pets along with a hip and joint supplement too. The dog collars are on my radar for an upcoming order!
[show_shopthepost_widget id="3591947″]
There are two ways to buy from Brandless: choose items for a one-time purchase or create a personal subscription box with a variety of items to make sure you never run out of your favorite products. This is a great option for household items (like toilet paper, paper towels, diapers) and kitchen staples (like olive oil, chips, seasonings, peanut butter) that you can never have enough of. The unique thing about the subscription boxes is that you can always throw in a one-time purchase item into your next subscription box to help save you even more money. Shipping is always $6.95 unless your order is over $48.00, and then everything ships for free.
P.S. There really isn't a catch to Brandless. Everything is $3 (or a little bit above since they recently added items at a higher price point). 
Brandless has saved me so much time and money! It's a set-it-and-forget-it system that allows me to focus on more important things in life. And you can feel even better about your purchases because Brandless partners Feeding America to donate to individuals facing hunger with every completed transaction (and two additional meals for every subscription box).
Budget Recipes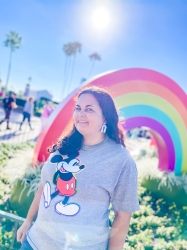 Latest posts by Krystal | Sunny Sweet Days
(see all)