Birthday Party Photography Tips
Birthday Parties are so much fun to photograph! Surrounded by family and friends, and of course, cake! There are so many things that can be captured at a birthday party, and we are going to go over all of them in this article. I've previously shared our own
dinosaur birthday party
and a
shark themed birthday party
too! While I'm not an expert, there are a few things that I always try to do before I style, stage, and shoot a party!
Decorations. Many families put a lot of effort into decorations for their child's party, so be sure to capture all of the little details of them. The signs, the balloons, and banners. The confetti, and streamers, capture all of these elements that you have worked so hard to make happen. I usually set up early in the morning and take all of these detail shots before anything happens!
The cake. The cake is one of the more important party elements. Ever notice how everyone at the birthday party needs to get a photo of the cake? Especially to older family members, it's important. It's going to get destroyed when it's eaten, so a photo to show what it looks like is required to save that memory. Especially if someone in the family made the cake or it came from a local bakery, a lot of effort is put into making cakes specific for themes of parties.
The birthday boy or girl. Of course! You need to get as many photos as possible of the little one! It's their day after all! Capture them as they are, playing, eating cake, opening gifts. Focus on the little one as much as possible. Get photos with as many family members as much as you can, they will thank you for that. And don't forget to capture all of their little details. When they are eating their cake make sure to get close ups of the face and hands, even the feet. They are only little once, getting those images for memories is important.
Gifts. Mom and dad will likely need to help them open gifts, capture this! You should take photos of the child opening any gifts that they do, close ups of their face when they see things that they like and don't like, and photos of mom and dad helping with the cards and cleanup while the child is having a blast making a mess. The entire process is important to show emotions. Often times they see a toy and get overjoyed, and then it happens again, and again. And they might see some clothes, and toss them off to the side, that's a great shot to get as well as it is humorous to the older folks and parents.
Capture every moment that you can. From the time you arrive to the time that you leave. Keep in mind a few things though; people do not like being photographed while they are eating, focus on the little one during that time, there may be some people who do not want to be in photos, respect that (although it's rare, most of the time everyone wants to celebrate with them), you will need to be quick as things often move fast at parties, especially for children!
Photography Tips
Where is your favorite place to take photos of your kids?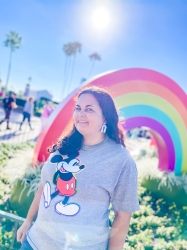 Latest posts by Krystal | Sunny Sweet Days
(see all)