Birthday Bash On A Budget: How To Make It Memorable
Birthdays should be celebrated — no matter your budget! Throwing your loved one a memorable birthday bash doesn't have to mean breaking the bank. With some creative planning, you can throw an incredible party that your special someone will never forget and still stay within a tight budget. Here are some great tips for putting together an amazing birthday celebration without going overboard on costs. We'll cover everything from decoration ideas to food choices, so let's get started!
Brainstorm different ideas for how to celebrate the birthday
Celebrating a birthday is a perfect way to show love and acknowledge someone's presence in your life. There are many ways to make this day special for the person you are celebrating. Rather than sticking to the traditional party or dinner, try something different this year. Consider hosting a movie night or planning a picnic in the park with your loved ones. Get creative with your ideas and make this day an unforgettable memory.
Make your own decorations
Let's face it – we all want our parties to look amazing, but buying decorations from the store can quickly add up. Why not try making your own? Not only will it save you money, but it adds a personal touch that your guests will appreciate. Homemade banners, balloons, and streamers are easy to create and you don't have to be a master crafter to make them look great. Plus, you have the freedom to choose any colors or themes that you want. So ditch the store-bought decorations and have fun making your own unique party decor!
Send out digital invitations rather than paper ones
In this age of digital everything, it's time to consider the advantages of sending out digital invitations instead of buying paper ones. Think about it – with just a few clicks and a little creativity, you can create a stunning invitation that will stand out in your guests' inboxes. Not only is it more cost-effective, but also more environmentally friendly. Plus, you can track RSVPs easily and even send reminders to anyone who hasn't responded. So why not take the plunge and go digital for your next event? Your wallet (and the planet) will thank you!
Shop around for the best prices on food and drinks
When it comes to saving money on food and drinks, shopping around is key. Instead of always heading to the nearest grocery store, take some time to look into different options in your area. Local grocery stores may have different sales and promotions, and bulk stores can offer great deals on certain items. And don't forget about the potential savings from birthday freebies, because many restaurants and cafes offer free birthday treats or discounted meals to their loyal customers. By doing a little research and taking advantage of these opportunities, you can save money on your grocery bill and treat yourself on special occasions.
Get creative with games and activities that don't require any money
Get creative and think outside the box with games and activities that don't require any money. From classic favorites like charades and Pictionary to more unique choices like scavenger hunts and talent shows, there's no limit to the fun you can have without spending a penny. Why not try a game of truth or dare, a dance party, or a group storytelling session? With a little imagination and some enthusiasm, you can create lasting memories without ever dipping into your wallet. So put down the credit card and get ready for some budget-friendly entertainment that's sure to bring a smile to everyone's face.
Use technology to your advantage
Technology has made it easier than ever to connect with loved ones, no matter where they are in the world. So why not take advantage of it and create a shared playlist on Spotify with the birthday person's favorite songs? This can be a fun way to incorporate music into the celebration, while also showing the person how much you care about their tastes. Alternatively, consider hosting an online karaoke session using platforms like Zoom or Skype. This is a great way to bring everyone together for some laughs and good times, even if you can't be in the same physical space. With a bit of creativity and the right technology, you can make any birthday celebration special and unique.
With some creative thinking and planning, you can host a fantastic birthday bash without spending much money. Hosting an awesome birthday party doesn't have to be expensive, so pull out your phone, make some calls, and start inviting people over! Celebrate in style – just don't forget the cake!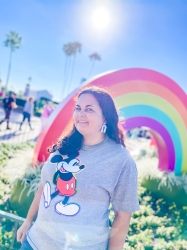 Latest posts by Krystal | Sunny Sweet Days
(see all)