Best Mexican Recipes You Need to Try
Mexican food is full of flavor and is the perfect addition to your recipe book. Whether you are a meat lover, pescatarian, or vegetarian, you will definitely be able to find something that will suit you. The best Mexican recipes aren't necessarily the most difficult; whether it's a birria taco dripping in consome or a chicken quesadilla, as long as you're using fresh ingredients, it will turn out fantastically.
Vegetarian Dishes 
If you are a vegetarian, Mexican dishes are a great way to make sure you are getting in enough of your daily protein intake. If you are looking for something extremely easy, quesadillas are your best bet, a cheesy black bean quesadilla is super easy to make and delicious. All you'll need is a can of black beans, some cheddar cheese, tortilla wraps, spring onions, and the following spices: cumin, smoked paprika, and coriander. You'll need to drain and rinse off your black beans, these are then mashed up to create a lumpy texture. Next, grate some cheddar cheese into the mashed black bean mixture, followed by chopped-up spring onions. Use a pair of scissors to cut up some coriander, including the stalks, and add this to your mixture, followed by ¼ teaspoon of ground cumin and ½ teaspoon of paprika. Feel free to add salad and pepper to taste.
Now spoon your black bean mixture onto half of a tortilla, fold over the half and place this onto a frying pan. Allow the tortilla to heat up and form a golden brown color before flipping it over. Once the tortilla has reached a golden brown color on both sides, you can place it onto a plate, cut it up into slices and serve.
Mexican rice is a fantastic dish that can be eaten on its own or as a side dish, often accompanied by chili. You'll require the following: onions, garlic, rice, tomato puree, a tin of chopped tomatoes, vegetable stock, chipotle paste, and coriander. The great thing about this recipe is that it is a sort of one-pot wonder. Once you've cooked off the onions, garlic, tomato puree, and chipotle paste, all you need to do is add in a tin of chopped tomatoes, followed by your rice and vegetable stock. Feel free to add any salt and pepper to taste. This dish only takes around 15-20 minutes to make, which makes it a great, quick recipe. The last thing you need to do is chop up and stir in some coriander; after this, you can serve it and enjoy it!
Meat dishes 
Mexican meat dishes are full of flavor and often include extremely tender meat that will melt in your mouth. Chilli pork tacos are no exception to this. Serve them up in a crispy tortilla with some ripe avocado and sour cream – here comes your next family favorite at meal times. You will require the following: red onion, smoked paprika, ground cumin, a pack of lean pork mince, pasta, barbecue sauce, a can of black beans, coriander, and taco shells. Cook down some onions with paprika and cumin, then add in your mince. Once this has been cooked, stir in some barbecue sauce and pasta along with some water. Feel free to add any salt and pepper to taste. The last thing to do is add some coriander and heat up your taco shells. When serving, ensure you spoon on a generous amount of your pork filling and load up on the sour cream and avocado.
Mexican chicken stew is another one-pot wonder that is perfect for those cold winter nights. The ingredients are onion, garlic, dark brown sugar, chipotle paste, a can of chopped tomatoes, chicken breast, and coriander. In a medium saucepan, cook down the onions, garlic, chipotle paste, sugar, and the can of tomatoes. Add in the chicken breast and allow this to simmer until fully cooked. Remove the chicken once cooked and shred it. Add the now shredded chicken back to the pot to allow the sauce to coat every part of the chicken. Add in some chopped coriander and enjoy served over some rice or with some tortillas.
Fish dishes
Fish tacos are a great option for any pescatarians who are looking to delve into Mexican food. You'll need is some lime, fajita seasoning, and cod that has been cut up into chunks, tortillas, yogurt, mayonnaise, jalapenos, garlic, and coriander. The fish taco is served covered in a delicious Baja sauce. This recipe is extremely easy and only takes around 20 minutes to prepare and cook. To make the Baja sauce, all you have to do is put everything into a blender until it forms a smooth consistency. To prepare your fish, whisk together some oil, lime juice, and fajita seasoning and toss your fish in this mixture. Fry up your fish until it begins to flake, and add it to some warmed-up tortillas covered in your Baja sauce mix. This is also often served up with tomatillo salsa.
A Mexican seafood cocktail is a perfect starter for the summer. This super easy dish is a seafood lover's idea of paradise. Gather up some cooked prawns, scallops, tomato ketchup, tabasco sauce, Worcestershire sauce, tomato juice, lime juice, orange juice, a ripe avocado, and some coriander. Peel your prawns and chop up your scallops. Mix in some ketchup, tabasco sauce, Worcestershire sauce, and all of the juices. Add as much tabasco as you'd like depending on how spicy you want this to be. Fold the sauce into the seafood and add some chopped avocado and coriander; stir gently to ensure nothing gets mashed up. Enjoy with some corn tortillas or perhaps some crackers!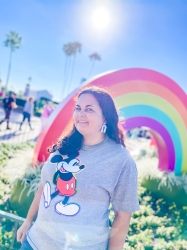 Latest posts by Krystal | Sunny Sweet Days
(see all)