The Best Chocolate Chip Cookie Recipes
Everyone likes their chocolate chip cookies in their own special way. Whether it's with flour or extra chocolate or perhaps even using cake mix, the best chocolate chip cookie recipe is up for debate! I rounded up over fifty chocolate chip cookie recipes, and I'm sharing a classic way to make these timeless treats. Keep reading to learn just how other bloggers make their highly sought-after chocolate chip cookies and be sure to leave your favorite recipes in the comments!
Chocolate Chip Cookies
There are few things in life as universally loved as chocolate chip cookies. They're delicious, comforting, and remind us of home. Chocolate chip cookies can be made in a variety of ways, and everyone has their own preferred recipe. Some people like them chewy, while others like them crisp. You can add nuts or
leave them plain. There are endless variations you can try when making these sweet treats!
What are Chocolate Chip Cookies?
Chocolate chip cookies are a type of drop cookie that originated in the United States. They are made from flour, butter, sugar, eggs, and chocolate chips. The dough is typically scooped onto baking sheets and baked until the cookies are golden brown.
Variation Options for Chocolate Chip Cookies
As we mentioned before, there are many ways you can vary the recipe for
chocolate chip cookies. Some common variations include:
Adding nuts such as walnuts or pecans
Using different types of chocolate chips, such as milk chocolate or dark chocolate
Adding spices such as cinnamon or nutmeg
There are countless other variations you can try to create your perfect chocolate chip cookie!
Storage Options for Chocolate Chip Cookies
Counter: To store chocolate chip cookies on the counter, simply place them in an airtight container and keep it at room temperature.
Refrigerator: If you're planning on keeping your cookies for longer than a day or two, you may want to consider storing them in the refrigerator. Cold temperatures help prevent the cookies from going stale or losing their flavor.
Freezer: Chocolate chip cookies can also be frozen to help them last longer. To freeze, simply place the baked and cooled cookies in an airtight container or freezer bag and place them in the freezer for up to 3 months. Be sure to thaw the cookies thoroughly before serving.
FAQs
Q: Is there a particular type of flour that works best for chocolate chip cookies?
A: There is no one definitive answer to this question, as there are many types of flour that can be used to make chocolate chip cookies. However, most bakers recommend using all-purpose flour or bread flour in order to get the best results.
Q: How can I make my chocolate chip cookies chewy?
A: To make chewy chocolate chip cookies, you will need to use more brown sugar than white sugar in your recipe. You can also try adding an extra egg yolk to the dough, as this will add moisture and make the cookies chewier. You can try baking your cookies at a lower temperature for slightly longer to help them stay moist and chewy.
Q: How can I make my chocolate chip cookies crispy?
A: If you want your chocolate chip cookies to be crisp, you will need to use more white sugar than brown sugar in your recipe. You can also try adding less flour to the dough, as this will make the cookies thinner and crisper. Additionally, you can try baking your cookies at a higher temperature for a shorter period of time to help them become crisp.
Q: Can I use chocolate chips that are not chocolate chip cookies?
A: Absolutely! You can use any type of chocolate chips you like in your cookies. Some people even like to mix different chips together, such as milk chocolate and dark chocolate.
Q: How can I make sure my chocolate chip cookies are cooked through?
A: The best way to ensure your cookies are cooked through is to use a cookie scoop or spoon to drop the dough onto the baking sheet, as this will help create uniform cookies that are all the same size. You can try using a toothpick to test the center of the cookies before taking them out of the oven. If
the toothpick comes out clean, then the cookies are cooked through.
How to Cook Chocolate Chip Cookies

To prep your pantry for your chocolate chip cookie bake-a-thon, be sure to have enough butter, sugar, brown sugar, baking soda, eggs, and flour on hand. I also use a teaspoon of vanilla in my recipe.
I like to use dark chocolate chips or look for a seasonal flavor like mint to spice up my cookies. However, for this recipe, I just used regular semi-sweet baking chocolate chips.
The Best Chocolate Chip Cookies
Yield:
 *Makes approximately 3 dozen cookies
A quick and easy classic chocolate chip cookie recipe.
Ingredients
1 C. butter, softened to room temperature
3/4 C. sugar
3/4 C. brown sugar
1/2 tsp. baking soda
2 large eggs
1 tsp vanilla
2 1/2 C. flour
12 oz chocolate chips
Instructions
Preheat the oven to 350 degrees.
Combine the softened butter, sugar, packed brown sugar, eggs and vanilla.
Slowly add in the flour and baking soda, mixing well.
Add in the chocolate chips
Drop by rounded tablespoon onto your baking sheets about 2-3" a part.
Bake for 8-10 minutes.
Recommended Products
As an Amazon Associate and member of other affiliate programs, I earn from qualifying purchases.
Nutrition Information:
Yield:

12
Serving Size:

1
Amount Per Serving:
Calories:

470
Total Fat:

25g
Saturated Fat:

15g
Trans Fat:

1g
Unsaturated Fat:

8g
Cholesterol:

72mg
Sodium:

193mg
Carbohydrates:

61g
Fiber:

2g
Sugar:

39g
Protein:

5g
The nutritional information here is an estimate. While I try to provide accurate information via Nutritionix, this information is provided as a courtesy and there is no guarantee that it will be completely accurate. I am not a certified nutritionist and any information sunnysweetdays.com should only be used as a general guideline.
Want to try other chocolate chip cookie recipes? Check these out!
The Best Chocolate Chip Cookie Recipes
The chocolate chip cookie is a classic for a reason: it's delicious. But what makes this particular type of cookie so great? The answer lies in the ingredients. By understanding how each ingredient works together, we can create the perfect chocolate chip cookie recipe – and everyone will love them!
What's your favorite chocolate chip cookie recipe?
Easy Printable Meal Plans
Want to celebrate and receive weekly meals? You're going to need to sign up for my email list! Here is a sample of fun desserts that you will love! Not only do I share entrees and sides, but I curate cocktails and sweet treats too.
Weekly Dessert Plan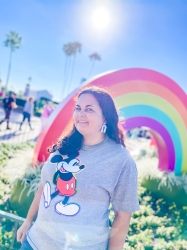 Latest posts by Krystal | Sunny Sweet Days
(see all)