My Favorite Beautycounter Products: Beautycounter Reviews
Looking for Beautycounter reviews? Here are a few of my favorite products and WHY I started using them. 
I have been working on swapping out the products that I use every day to Beautycounter, and I've discovered a few favorites along the way. There are a few reasons why I wanted to try Beautycounter products, but mainly, I had heard such amazing things about them! I was drawn into the sunscreen as being safer to use and still protected against UVA and UVB rays, and then I discovered a few friends loved the foundation…and I was hooked!
Beautycounter Reviews
Let's start with the foundations. I bought the Dew Skin foundation first which provides light coverage and SPF 20 protection. Since we spend most of our weekends outside at Disney or out and about, I wanted something lighter that still provided SPF protection. For reference, I use No. 3.
I then bought the Tint Skin for more coverage. And, now? I use both! Yes, I'll start with the Dew Skin first and then add a light layer of Tint Skin before heading out for the day. I use Honey.
Each night I use the cleansing balm to wash away the day. I love the consistency, and I feel like my face is REALLY clean afterward.
Several times a week I use the Resurfacing Peel. I put this on at night and then wear a moisturizer. I love waking up to super smooth skin. I've been using this for over a month now, and I'm going to write up a post about the progress my skin ahs made since then soon!
Don't wait to stock up on sunscreen for summer. This was what drew me to Beautycounter to begin with. I wanted to find a safer sunscreen product since we are constantly in the sun at theme parks. I bring Beautycounter on the go, and I LOVE the non-aerosol spray. It's easy to apply and doesn't have a strong chemical smell like other spray sunscreens. I think this is the holy grail of sunscreens for us, and I feel so much better about using it on our skin for long periods of time.
What I use every day:
Vitamin C Spray
Peppermint Balm
Color Intense Lipstick (9 to 5 is the first shade I bought, and I just got the Girls' Night which is red)
Velvet Eyeshadow Palette
Dew Skin Foundation
If you have any questions, let me know! I'm happy to share with you more tips about what products to try first!
Makeup Tips: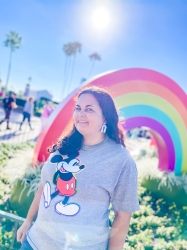 Latest posts by Krystal | Sunny Sweet Days
(see all)