How to Save Money at Bealls
Saving money is easy when you shop at Bealls. It can be so hard to save money when your shopping list is a mile long. In order to save our hard earn cash, we need to have a game plan which will help with our spending habits. I've created a way to shop my favorite store without going broke.

1. Create a spending log. Write down daily lists of things purchased, cost per item, and the reasoning why you bought it. After keeping a log for a month straight, you will have gathered information on the hidden whys on what you're buying. You will notice your wants over your needs. You may find you spend too much daily at the local coffee shop or eat out way to much. You can adjust your budget and start saving. When you save, you can shop more at your favorite stores!
2. Wait for sales. When it comes to the holidays, Bealls always has sales. I also use coupons to save money at Bealls. You can stop by Groupon to see what is on sale to help you save a few bucks. Shipping is VERY affordable at Bealls, so you don't even have to step inside the store. You can also use Groupon for coupons on stores like EyeBuyDirect, Boscov's, and AliExpress.
Bealls has all sort of items on sale weekly from housewares, clothes, and baby goods. The clearance racks are also an amazing place place to find cheap scores!
3. Sign up for a store card. I usually don't recommend credit cards, but you can save even more with your store card.
4. Eat before you shop. Never go shopping when you are hungry because you give into temptation. Studies have shown when someone is hungry, their temptations to buy non-food items are greater as well. Always make sure you take time to first eat!
5. Look for mailings. Since I live in Florida, I frequently receive Bealls flyers in my mailbox. It is a simple reminder that a sale is coming up, and sometimes there are high value coupons.
How do you save money at your favorite store?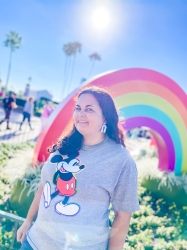 Latest posts by Krystal | Sunny Sweet Days
(see all)