Children's Bathroom Printables
I participated in this sponsored campaign on behalf of Firefly® and One2One Network. All opinions stated are my own.
It is important to create a routine when you have children in your home. I am learning that if we do the same thing day in and day out, everything just goes so much more smoothly! My toddler craves a morning and evening routine, and I have seen adorable printables or checklists to help guide us on this journey. I decided to create a few printables myself to help remind my family (and yours too!) about a few bathroom things that you just cannot forget!

Teaching your toddlers proper dental hygiene is high on our list right now. Luckily Firefly knows that moms stress the importance of healthy oral care habits for their kids and that getting them to brush their teeth every day can be a serious 'pain in the brush.' Statistics show that 90% of moms have even admitted to using extreme measures to ensure kids brush their teeth, such as giving ultimatums, bribing with gifts, or taking away TV time. Firefly is a leader in Children's Oral Care solutions and the inventor of the Ready Go Brush. This brush is equipped with an innovative light-up timer and happens to be the No. 1 selling kid's manual toothbrush!

With interactive toothbrushes like these Star Wars themed ones, your child will delight in the sounds and lights! They have sounds for one minute to symbolize how long you should brush, brush, brush!

With the colorful and durable handles, my toddler fell in love with them instantly. The toothbrushes are equipped with protective caps or suction cups to keep the brush head clean, and the Firefly Fun Pump mouth rinse comes with a no-mess cup to ensure you save time on clean-up.
Free Bathroom Printables

Pop these adorable prints in a frame and remind your little one to brush, floss, and wash their hands.
With popular characters such as Angry Birds, Hello Kitty, Star Wars, Marvel and more, as well as interactive flashing lights that will guide your kids through 60-seconds of brushing for each row of teeth, Firefly offers fun solutions that will assist you in entertaining your kids into healthy habits that will last a lifetime.
What is an important part of your daily routine? How do you encourage your child to brush and floss? Have a little one? You might want to have a Birthday Cake Smash!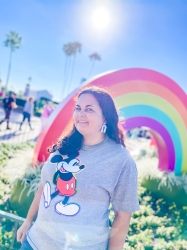 Latest posts by Krystal | Sunny Sweet Days
(see all)