DIY Tips to Keep Your Backyard Pest Free
This post contains affiliate links.
As the southern half of the country emerges from its heat-induced isolation caused by a hotter than usual summer, more of us are heading to the backyard to give ourselves a little escape from our own living rooms. The backyard is a place to take a breath of much-needed fresh air. 
To help you turn your backyard into an inviting oasis this fall, be sure to check out Sunnydaze decor. Sunnydaze brings relaxation, style, and convenience into people's lives through high-quality indoor and outdoor decor products, including furniture, fountains and the most essential fall necessity, fire pits. Their goal is to create an outdoor living space that you can love with top-quality products, backed by excellent customer service and fast shipping.
If you are looking for that perfect fire pit to be the centerpiece of your outdoor gatherings, check out sunnydazedecor.com. All this month you can take 10% off your entire order, including their line of fire pits, log racks and accessories when you use the code "FIRE10" at checkout. You will love this Crossweave Fire Pit!
After you've created your perfect backyard living space with SunnyDaze Decor, here are five things you can do yourself to help make your outdoor oasis even a little more perfect by getting rid of biting bugs and pesky pests. These options are all safe for families and pets and we can make most of them with items found around the house or at your local store.
Turn Your Firepit Into a Bug Repelling Forcefield
One of the best parts of being outdoors when the weather cools off is getting to cozy up next to an outdoor fire. An outdoor fire pit makes this a possibility for many homes.
Cedarwood, especially the bark, contains natural oils that can act as a natural repellant for most mosquitoes and biting flies. This effect is magnified if the wood is burnt. Untreated, all-natural cedar bark is available as a landscaping mulch from most home improvement stores. It is cheap and safe for humans and pets so just throw on a handful of the bark onto the fire and the smoke will become a natural repellant to anything that wants to come into your vicinity.
Grow Your Own Defense In Your Garden
Cedar isn't the only plant that can ward off flying insects. Lemongrass, citronella, and sage all have insect-repelling qualities and can be grown in a small garden or even as potted plants. Not only do the natural oils in these plants help keep bugs away, but they also leave your backyard oasis smelling amazing. And don't forget to keep any trimmings or dead leaves from these plants as the dried material can be used as kindling for the fire pit to get every bit of bug-repelling power out of them.
Trap Flies and Other Insects
Even though flies don't bite, they can be a nuisance that can ruin your backyard time, especially if there is food involved. A simple way to divert the flies' attention and ultimately lead them to their doom is a homemade fly trap. To create your own fly trap take a two liter soda bottle and cut the top off about an inch below where the taper of the bottle ends. Invert the top and use tape or a stapler to hold in place. Place 1/4 cup of sugar, 3 tablespoons of apple cider vinegar and 1 tablespoon of dish soap. Fill the bottle with water so that it is approximately 1/3 of the way full.
Place the trap somewhere that will attract the insects away from where you are enjoying your yard. Once they enter the trap, they won't be able to exit and will eventually drown in the mixture.
Attack the Fire Ant Hills Directly
Not all backyard pests reign down from above. Ants, especially fire ants, can ruin your day or evening from the ground up. While chemical pesticides are an effective way to control these painful little pests, there are some options to get rid of ants at their source — in the nests — leaving no potentially harmful chemical where kids or dogs might play.
Bring two quarts of water to a rolling boil. Add a 1/4 cup of lemon juice, 1/4 cup of apple cider vinegar, and 2 tablespoons of dish soap and remove from heat. Pour this mix while it is still steaming hot into the central opening. Be sure to steer clear of the mound after application since the ants will probably be in a state of anguished aggression. Since ants tend to create sprawling colonies, you may have to repeat the process for adjacent hills with openings.
Reclaim Your Lawn With A Sprinkle of Your Secret Weapon
Mix Borax, which can be found in the laundry aisle of most grocers, with equal parts cinnamon and cayenne pepper powder. Sprinkle liberally around where you will spend most of your time outdoors. Not only will this mixture deter ants, but most other insects you might find outdoors, like cockroaches, silverfish, slugs, and even toads. It is also safe for your grass and won't affect pets, except it might make them sneezy if they sniff around too much.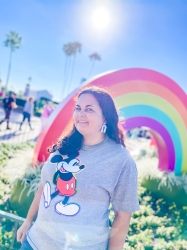 Latest posts by Krystal | Sunny Sweet Days
(see all)